Stop for a second, enjoy a few moments of peace and quiet, bathe in one's memories – in 2017, the Christmas festival is all set to allow the spirit to relax and delicate tones provide the background. And the colour palette at Christmasworld from 27 to 31 January 2017 reflected this: warm copper, rich gold, snow white, as well as lustrous, full red tones, natural greens and relaxing shades of blue create a calm, pleasant, but also festive, ambience. With the help of formal echoes of times past, quality products such as hand-blown baubles and traditional motifs, old values are revived and lend a feeling of safety and security. Vintage is a key trend for 2017 - and not only at Christmas time. So, too, are casually found objects and holiday souvenirs; and humorous figures from the world of comics and fairy-tale make for brighter moments.  Alongside these, products made from natural materials and the gentle light of candles remain popular.
These and other trends were presented by over 1,000 exhibitors from 42 countries at the leading international trade fair for festive and seasonal decoration in Frankfurt am Main. This year, too, Christmasworld provided more than 43,000 trade and professional visitors from all over the world with an overview, in its Trend Show, of the major decorative trends.
The overarching leitmotif, 'delightful moment', identified by the bora.herke.palmisano Trend Bureau, reflects the latest currents in fashion, interior design and architecture, as they manifest themselves in the products being promoted by the exhibitors. They can all be found on retailers' shelves.
Colour trends for 2017: soft and atmospheric to classically traditional
In 2017, the Christmas festival is set to be celebrated in relatively subdued, rather than loud, colours. Copper becomes even warmer and acquires a reddish hue; pink, perhaps in combination with warm nougat or hazelnut tones, gives a sense of delicate freshness. White lends a touch of freshness all year round. As the days grow colder and darker, the colours become, however, richer, deeper, darker - but also more lustrous and festive: midnight blue is very much on trend, as is denim blue. On the question of what generated most orders after the show, opinions are divided. "Blue didn't go very well in our shop. Our experience is that everyone always wants to see something new, but, at the end of the day, always buy what they are familiar with; in other words, they buy what is traditional: white, pink, green, lilac," says Joost Wieseman, owner of Jodeco Glass. "Traditional colours are always popular," confirms Matula Bogumil from Dagmara, too. "But our customers this year were very interested in turquoise and in dark blue tree decorations as well".
Red remains a classic colour that can't be overlooked; it sometimes appears darker, sometimes in a powerful orange-red, almost lobster-coloured, sometimes in a strawberry shade. Gold remains part of the mainstream trend, and the elegance of silver just is part of Christmas, as is green. And there is no shortage of the dignity of black and even a dark lilac.
Also seen on the stands: copper: Hoff, Dagmara; Eurosand; nougat: Kersten, Othmar Decorations, midnight blue: Weiste, Jodeco Glas, DK International Interiors, denim blue: Comarco, Bizotto, Rottöne: Bizotto, Goodwill, Goldina Da Vinci; black: Walco Potterie, silver: Sandra Rich
Motifs from the 'good old days'
There have been echoes of the styles of the 50s and 60s around for some time now but, this year, the pleasure we take in old styles is particularly in evidence. Not least when it comes to Christmas decorations, we find some enchanting motifs from, say, the 30s, 40s and 50s: chubby cherub faces, grumpy old Santas looking into them, as well as cats, pudgy moon faces, little girls with big red bows in their hair. In short; vintage is very much in demand. So, too, sets of antiquarian pictures with rose-pink and light blue glitter are used to decorate baubles, candles and plain metal pendants "The high-quality workmanship of our baubles and figures with old traditional motifs have been selling well for us for years. Whilst it may well now be spreading as a trend, it has had its fans for a long time – and, indeed, right across the globe," explains Johann Pöcksteiner, Managing Director of Hanco.
This trend contrasts with the modern, humorous motifs from the worlds of Manga and other comics, such as snow-men with clowns' faces and big red noses and plain baubles with witty sayings.
"Make-it-yourself products went particularly well this year; like our cardboard gingerbread house, that you can paint yourself, for example. Alongside this, our artificial wreath in the form of the peace symbol was a real hit. It is a topical subject at the moment and makes a statement that is particularly appropriate at Christmas. Also well received were our ceramic bottle stoppers with little trees or reindeer - or a Santa, of whom you can only see the bottom half. So, playful and amusing motifs, to which our customers down south also warmed," reports Dimitrios Aptidis, Managing Director with special responsibility for marketing and sales at Donkey Products.
Hoff, Kaheku, Shishi, Gawol; funny snowmen, amusing motifs: Donkey, Det Gamble Apotek, Kaemingk, Cody Foster & Co, Kölnschätze, Krebs Glas Lauscha
Decorating with emotion
2017 is not just about bathing in one's memories, it is about something more subtle: there is a trend for the soft and the delicate – grandma's lace is celebrating its comeback and can be found, say, on Christmas-tree baubles or as hanging decorations. Filigree designs in paper, for instance, are also in vogue: "Our paper stars and small paper ornaments, as well as our lamps in the shape of snowflakes, have been our most successful products so far this year," observes Virender Kumar, Managing Director of Inmark, too. "We sold them mainly to Scandinavia, but also to Germany and Australia." There is also, in his view, a particular trend this year for natural materials, recycled items and environmentally friendly products."
But delicate items made of wire, glass and metal are currently also very popular: wafer-thin metal stars, delicate wire wreaths and plain glass medallions draw the eye to details. The pure beauty of glass not only, however, lends something delicate to the Christmas tree – there are also spring bouquets, candles, sweets, cakes, wines and liqueurs that are clearly given a lift through the use of this particular material.
Also seen on the stands: glass vessels Clayre & Eef, Hoff, delicate paper baubles: Inmark. Baubles covered in lace: Clayre & Eef, StivoTex, metal wreath: Gilde; delicate and tiny metal stars: Eurosand, Gilde, Gift Company
Animals fit in everywhere
It is not only on Facebook and YouTube that animal clips have proved extremely popular – foxes, deer, stags, owls, rabbits, dogs, cats and birds all continue to be used as decoration to create special accents; they exist in all imaginable sizes, materials and forms. They decorate cushions, candles, baubles. A particular place is reserved for birds this year: all species and kinds of bird are to be found in abundance on Christmas decorations: elaborately and naturalistically painted, drawn with delicate lines or as a complete decoration in the shape of a bird. As a result, birds hang from the Christmas tree, adorn the Easter table, decorate shrubs and windows. "Owls are trendy," confirms Johann Pöcksteiner from Hanco, for example. And Dijk, too, are banking on the success of our feathered friends: "There is a trend for all sorts and kinds of bird – no matter what the season. At the same time, for us at least, products made of teak are selling really well, often, for example, in the form of spheres of one kind or another. Anything natural is just booming at the moment," reports Marvin Honsbeck, Sales Manager at the Dutch company.
Also seen on the stands: birds: Arte, Hanco, Inge Glas, Edelman; birds on a candle: Diana Candles, wooden owl: Dijk, animals in general: Nova Nature, Shishi
Elaborate and quirky: Christmas-tree decoration
Still popular as tree decorations are, moreover, fantasy figures: fairies, sea creatures, unicorns and angels, as well as dogs of any and every breed - and, indeed, animals in general. Equally popular are hanging decorations with culinary motifs. And even decorations with a Star Wars theme for the Galactic Christmas Tree.
More strongly in evidence, this year at Christmasworld 2017, were glass baubles with embedded sprigs, brightly coloured pearls, stars, or tiny trees and Santas. "Transparent baubles and stars with natural items embedded in them are particularly popular with our customers at the moment," confirms Janine Siegfried from Kaheku. Alongside these, she reports, white baubles with glitter or pearl decoration are being ordered in increasing quantities.
Quality-crafted baubles, too, together with artistically designed, little glass trees are a trend in 2017. This was shown, for instance, in the detailed work exhibited in some decorative beetles with fine glass legs, destined for the Christmas tree, in glass discs with delicately drawn cats' faces and the most intricate feathers, or baubles with elaborately painted natural motifs or set with stones. "Our medallion pendant decorations with cats faces on them were the big hit," confirms Matula Bogumil from Dagmara.
As a general principle, however, it was also baubles with unusual surfaces, say special varnish effects, sandy textures and 3D crystal glitter, that were amongst the most ordered items. "The fashion is very much for unusual, high-quality products – and our sales figures show it."
Also seen on the stands: food: Inge Glas; fantasy figures: Goodwill; high-quality items: Hanco, Dagmara, Inge Glas, Rödentaler; glass baubles with something inside; Kaheku, Scheulen, Räder; little glass trees: Shishi, metal star and a heart with brightly coloured pearls: Bell Arte
Continuing trend: natural items – the cactus and the pineapple
Nature is, at once, a model, a source of inspiration and a provider of raw materials. Nature is, simply, the fashionable thing at the moment! Ceramic pots and bowls imitate the form of leaves and woodgrain and echo the shapes and forms of feathers.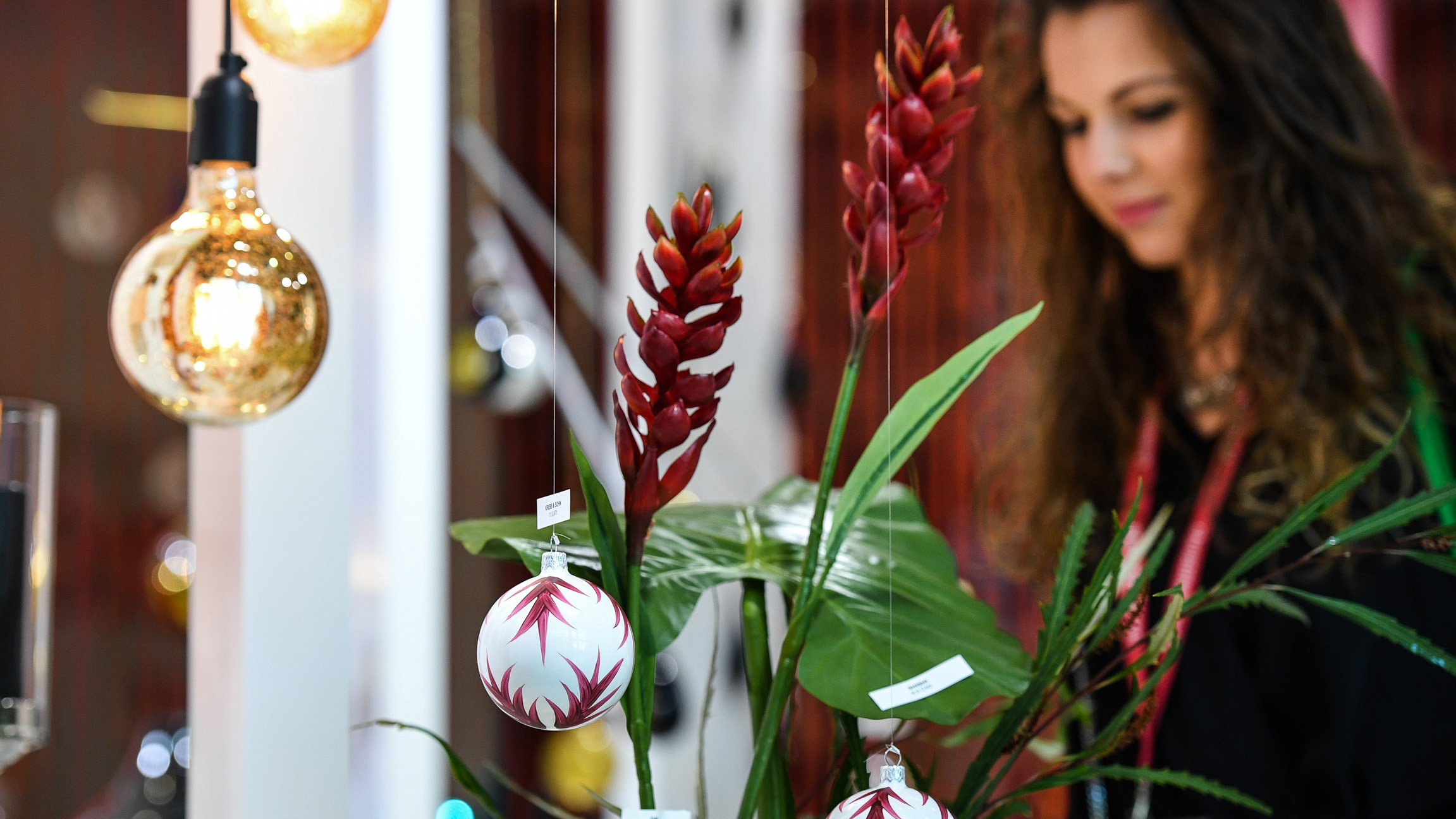 Antlers are fashioned in porcelain and silver. Wood is worked to form bowls, plant-pot holders, candle holders. Flowers, shrubs, brushwood and moss form wreaths, are made into fresh bouquets, bring life to tables and entrances. But natural fruits, too, are popular, such as acorns and pine cones. Equally popular are soft materials such as felt and wool – in the form of bright and cheerful hanging decorations.
And vases too can happily also be 'natural'. As Joost Wieseman from Jodeco Glass observes: "We do a line of products made from recycled glass and they have sold really, really well this year."
Also to be seen were, moreover, some felt plant-pot covers, as well as wreaths with felt woven into them. Particularly popular for 2017 are cacti and succulents – both real and imitation - as containers, vases, candles and fairy lights and also as motifs on cushions.
The cactus is in the ascendancy. Be it in natural form or as a hanging decoration from Inge Glas or as a design on cushions from pad home. Pineapples, too, are still around and command attention – even in winter: in the form of a black candles, for example or a string of fairy lights.
Also seen on the stands: taken from nature: Hogewoning, wood: Exner, Heim; porcelain cactus: Trend Center, Wiedemann: candles, pineapple candle: Graziani; felt plant-pot cover: Lehner Wolle, felt pendant decoration: Cody Foster & Co, felt baubles with bast-lace banderoles and angel-shaped jute pendants: Othmar Decorations, leaf motifs: Vosteen
Creating a sense of freshness and atmosphere: stars and trees
Alongside all this, traditional motifs such as stars and trees are also on trend; small metal stars in copper colours or silver, made from fine wood or paper are also popular, as are wreaths, plant-pot covers and star-shaped tea-light jars. The tree, in particular, is a major motif in the upcoming season: sometimes in stylised, sometimes in naturalistic forms. There are echoes of a wide variety of tree shapes and they are made in a wide range of materials, colours and sizes – tiny for the kitchen table and gigantic for shops and entrance lobbies; and they exist as wax hanging decorations, candles and candle motifs, as well as being carved, stamped and sawn out of wood. "We've a whole series of different trees for table decoration with a variety of motifs such as, for example, fairy-tale motifs; however, it's the traditional tree of the forest, with woodland animals that has been selling particularly well so far," explains Michaela Gollnisch from Kölnschätze.
Also seen on the stands: trees: Shishi, Gift Company, Walco Potterie, Edelman, Gehlmann, Goodwill, Light & Living, AM Design, Inge Glas; stars: Piovaccari, Othmar Decorations, Eurosand, Light & Living
More atmosphere with candlelight
If things need to be a little more cosy and romantic, then candlelight is a must. This is evidenced by the wide variety of candle shapes, colours and styles that were exhibited at Christmasworld 2017: simple pillar candles, turned, or in the form of icicles, textured, as if batiked, uncompromisingly shiny, with uneven surfaces or shaped like a pineapple, like Santa Claus or like a rabbit, in a porcelain holder with a wooden lid or in a finely ground glass receptacle, with delicate illustrations or a lace banderole. In the spring, they embellish classic Easter motifs like bunnies, lambs, birds and snowdrops. In winter, stars, hearts, and trees. You can even have your own name specially printed on the candle – the cult of the selfie is never far away!
There is, however, a noticeable trend for more high-quality items. "We have been extremely successful this year with our luxury collection," reports Amanda Martinucci, Marketing Director at Graziani. "The candles are of very high quality and benefit from a particularly shiny surface. It takes four days for this special paint to dry. In order to underline their high quality, they are produced in special gift packaging and that is being received really, really well. Our customers, of course, are always looking for something a bit special and we have responded to that."
Also seen on the stands: candles in jars, batiked candles: DK International Interior AS, birds: Diana Candles, Frado; candles with names, lace and lettering: Richard Wenzel, spherical candles with special surface effects and gold settings, lacquered and turned candles, and with imitation lace banderole: Adpal
Note for journalists
You will find further information and high-resolution photographs on the internet at christmasworld.messefrankfurt.com
Christmasworld: Seasonal Decoration at its best
Christmasworld is the world's most important order venue for the international decoration and festive articles sector. Held annually in Frankfurt, it presents the latest products and trends for all festivities of the year and provides innovative concept ideas for decorating large-scale and outdoor areas for the wholesale and retail trades, shopping centres, DIY markets and the green sector. The last event was attended by 1,061 exhibitors from 42 countries and over 43,200 visitors from 110 countries (including Floradecora). Christmasworld is characterised by the complete spectrum of festive decorations while a wide-ranging complementary programme with Trend Show, special exhibitions, events and expert lectures is a valuable and informative source of supplementary inspiration for everyday business life in the sector. Next event: 26 to 30 January 2018.
In addition, the new 'Floradecora' from 26 to 29 January 2018 offers immediately available fresh flowers, plants and flower arrangements for seasonal decoration as an additional line – at an ideal time at the beginning of the year, right at the heart of the strongest sales market for flowers in Europe. The innovative trade-fair concept spotlights fresh goods, enables visitors to make a direct comparison and leads to an intuitive product selection. At the first edition of Floradecora in 2017, 67 exhibitors reached over 10,700 trade buyers from the three concurrent trade fairs, Christmasworld, Paperworld and Creativeworld
Background information on Messe Frankfurt
Messe Frankfurt is the world's largest trade fair, congress and event organiser with its own exhibition grounds. With some 2,400 employees at 30 locations, the company generates annual sales of over €640 million. Thanks to its far-reaching ties with the relevant sectors and to its international sales network, the Group looks after the business interests of its customers effectively. A comprehensive range of services – both onsite and online – ensures that customers worldwide enjoy consistently high quality and flexibility when planning, organising and running their events. The wide range of services includes renting exhibition grounds, trade fair construction and marketing, personnel and food services. With its headquarters in Frankfurt am Main, the company is owned by the City of Frankfurt (60 percent) and the State of Hesse (40 percent). Further information on the company can be found at: www.messefrankfurt.com