Whether a lavishly set table, a strikingly dressed mantlepiece, an ornate wreath or a decorated tree - all the upcoming Christmas scenarios are designed to attract attention and appeal to the beholder's senses. Most importantly, there is the connection to nature and the trend towards high-quality craftmanship. But there is no single big trend, strong trend colour, or important trend product. Instead, it is all about individuality. The broad product range is designed to give the celebration of love a completely personal touch. And we can all express this in different ways.
The experts from the bora.herke.palmisano design studio provide an orientation for future colours, shapes and materials. Messe Frankfurt commissioned them to stage a Trend Show, structured around four trendsetting style collections. For the 2018/19 festive season, these are called 'vivid heritage', 'balanced sobriety', 'eclectic gathering' and 'splendid history'. They make you want to try a new approach to tradition, feelings of belonging, and history; they play with combinations that are rich in contrast, and they create new and inspiring alternatives for festive decorations. From the range of products on offer, everyone can and should be able to tell the Christmas story in a way that is tailored to their own clientele.
Festive scenario 1: a colourfully decorated table with unexpected touches
'Vivid heritage' is all about a mix of patterns and folklore in yellow, petrol-blue and red. Influences that are rich in tradition combine to make a lively style with a natural look. The variety of materials is like a richly decorated table with unexpected, humorous touches.
There are lifesized black fish here, which turn out to be candles,  and iridescent sea creatures, such as crabs and oysters, which look tasteful and are perfect as tree decorations. In stark contrast, white glass baubles with blue and red folklore patterns and transparent baubles in a strong turquoise, yellow and red, are served on black ceramic plates and shiny, bright red underplates. The entire Christmas table is covered with differently glazed and inscribed ceramics, gift boxes with blue printed and batik patterning, and candles in intense solid colours with gentle grooved designs. In between all this, there are eye-catching elements: papier maché rams and horses painted by Ukrainian artisans, strings of lights in the shape of small lobsters, and a wild band of robbers made of glass that is destined for hanging on the tree. Above this, on the green Advent wreath, there are colourfully checked and bright yellow Christmas baubles with blue spots, hanging ornaments that look like 'lebkuchen' and stripy glass cones. The floral designs play with sumptuous, highly natural bouquets.
Festive scenario 2: understated, with a lot of white and a firm presence
'Balanced sobriety' is a consistently understated style in pure white, deep black, red gold, bordeaux-red and cool grey. The affinity with Japanese aesthetics is revealed in a calm, meditative atmosphere. The techniques and combination of materials are delicate, and they are reflected in white porcelain vases with surfaces resembling thin wood, and sculptural candleholders made of polished wood and brushed metal. The motifs and ornaments are exquisite and charming. The materials, on the other hand, - chipboard, wire and paper - could not be simpler. Incense smokers in completely minimal shapes, are made of light wood; round and flat tree baubles are made from matt porcelain with a perforated pattern; teardrop-shaped tree decorations are made from tinted amber-coloured glass. Large Christmas tree balls with high-gloss silver or black surfaces, and marbled Christmas tree decorations in black and white, radiate calm.
Artistically pleated, plaited and folded baubles and stars made of matt white paper make an appearance as tree decorations. Aesthetically striking products catch the eye, like the cylinder-shaped black vase and the black metal Advent wreath with tinted candle glasses. Transparent glass baubles and cones, dusted with white snow or painted with small white stars, create a light counterpart to them. In addition, decorative pieces such as spherical white vases with gilded rims, white glass baubles with shiny maple leaves and tree-shaped gold candles are used. The floral decorations, as well, are minimalist, artistic and unique.
Festive scenario 3: a quirky mix with a shimmering look
'Eclectic gathering' is presented in a way that is vibrant, full of energy, bizarre, multifaceted and intensely coloured, in shimmering lemon, pink, mandarin, azure and rosé - enriched with gold and grounded with black. As in the fashion industry, different styles are extravagantly and strikingly combined here. The trend that started with cacti and succulents is now continued with underwater creatures and insects. It's all wonderfully unexpected - with turquoise-painted and pearl-studded white baubles, insects and beetles on the Christmas tree, and sunglasses and ballet shoes on decorative greenery. At the same time, an arrangement with baubles in bright colours makes a very dynamic impression. Christmas baubles fluoresce and shimmer, they glimmer and glisten, and they reflect the light. There are some in neon colours, some in ombré-effect patterns, and some decorated with sequins and mother-of-pearl. But there are also ornaments shaped as iridescent birds with their wings spread, dragonflies dipped in gold, and glass jellyfish dusted with gold for hanging on the tree. There is a preference for shapes that are figurative, fanciful and exaggerated.
A pink parrot takes on the role of the stag on the mantelpiece, a jumping trout that of the squirrel gnawing on the Christmas tree. Porcelain dinosaurs and little glass pigs serve as candleholders. Christmas baubles turn into eggs decorated with real feathers. In addition, jellyfish and stag beetles add unusual touches, tarts and macaroons provide originality and lace-effect baubles create a special look. It is an astounding feast for the imagination, with flower- and feather-filled glass baubles, and quirky Christmas motifs, such as flamingos and orchids. These are complemented by floral decorations with very simple blooms.
Festive scenario 4: mystical opulence in elegant blue-green
'Splendid history' is the Christmas theme that met with the most positive response at Christmasworld. A surge of green and dark blue shades whooshes into the Christmassy winter wonderland in colours originating from the oceans, precious stones and minerals.
Warm gold makes an opulent scenario; silver creates elegant accents. The overall result is a mystical picture with a fascinating charm, which is elaborate in style, luxuriously arranged, and interpreted in a modern way. There are opulent baubles on the tree in aquamarine and aventurine shades of green. Their surfaces shine with metallic effects, relief work, and patinas inspired by nature. Christmas decorations that are marbled, veined in gold, sprayed with glitter, and studded with pearls are very decorative. Transparent glass decorations in the shape of crystals with a shimmering look, and precious glass baubles with seemingly rusted metallic coatings, create a mysterious and sumptuous effect. The elegant vintage style is applied to further festive decorations, bringing candles into focus. These can be marbled, or look as if they are cast in bronze, and come in circular, rectangular and organic shapes. Gold bowls and ceramic dishes in the shape of large palm leaves are all part of this exalted style. Lavish flower vases with distinctive pine cone textures or a hammered look, and transparent vases with gold-painted decoration or a mother-of-pearl surface, are ready to take spectacular floral arrangements of exotic origin.
Macro trend: a feast for the senses, inspired by the natural and animal world
Nature is the one big source of inspiration that applies to all four style collections. Natural elements make Christmas into a true feast for the senses. Natural materials and materials that look natural are mainly to be seen - above all wood, which is the material for decorative figures, trays, candleholders, lanterns, small pieces of furniture and Christmas trees. Shapes are also inspired by nature: there are fir tree candles, stag candleholders, willow, twig and coniferous wreaths, and hanging decorations in the shape of animals and fir cones.
Here we have woodland scenarios with deer, squirrels and owls. Jungles unfurl with peacocks, parrots, monkeys, orchid blossoms and palm leaves. Summer meadows come into bloom, with butterflies in flight and beetles and insects scurrying about.
Entire underwater worlds are created for Christmas, with jellyfish, corals, seashells, fish, crabs and seahorses. Especially original for Christmas 2018 is the use of alpacas and llamas.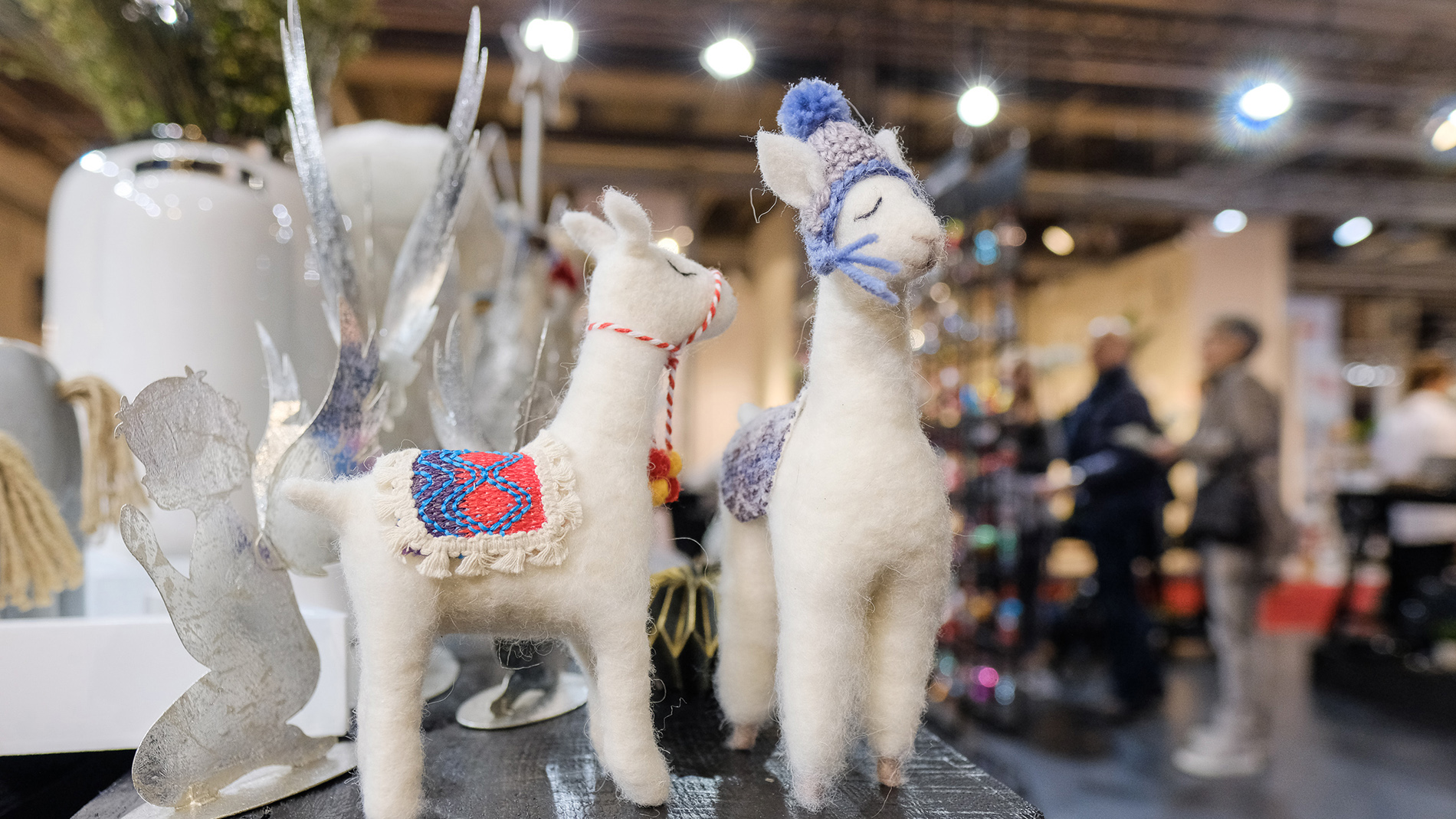 In terms of colours, the trend towards natural themes can be seen in the dominance of blue and green tones. Patterns are inspired by nature, including above all, fir trees, deer, twigs, snowflakes, stars and feathers. Winter landscapes and animals in the snow are shown in a particularly affectionate way. Surfaces and structures lean towards nature, with grainy, frosty and bark-like textures.
It is also striking how Christmas decorations are increasingly trying to merge with floral arrangements - both real flowers and blossoms, green plants, twigs and succulents that highlight colour worlds and moods, and imitation flowers and plants that are confusingly real in appearance. In addition, olfactory influences with natural nuances are increasingly finding their way into the world of Christmas, in the shape of candles, room sprays and scent diffusers.
And moving lights, cordlessly controlled by an App, bring the figures and objects to life. Warm golden light is visibly taking over from cold white light. Transparent Christmas baubles filled with light have the potential to be favourite pieces.
And as if that were not enough - Christmas decorations are also incorporating culinary treats now: ingredients like fruit and vegetables, delicacies like lobsters and crabs, and goodies like tarts and macaroons will be decorating the tree in December 2018. The new 'Christmas Delights' product area at Christmasworld in Frankfurt, which was designed like a Christmas market, tickled the palette with sweet and savoury delicacies, cold fruit teas and hot mulled wine.
The next festive scenario: for Easter, pastels are getting a glittery look
As with the Christmas product ranges, gold will also play an important part at Easter. But light pastel shades are in the number one spot. There is a demand for colour to refresh product ranges. There are bunnies and eggs in light and cheerful colours with powdered gold motifs (from Gift Company). Personalised egg decorations with faces and smileys (from Inge-Glas Manufaktur), and black and white ones with funny sayings are conquering the Easter basket.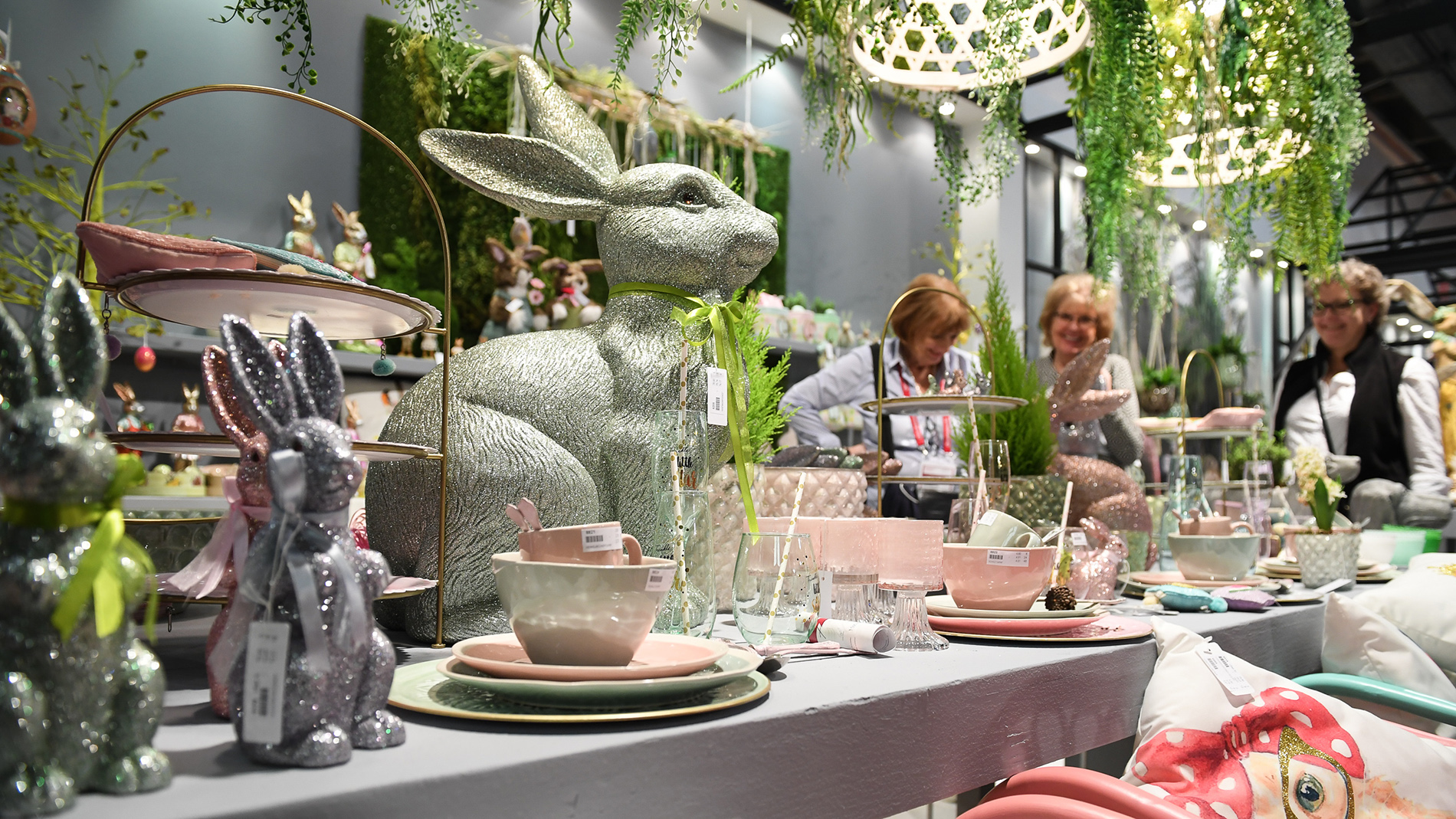 Seashells and corals, citrus fruits and olives, and tile patterns (by Pernici) in pale shades of blue, take us into summer. Pastel-coloured candles, with or without silver glitter, which are also catching on for the Christmas season, are guaranteed to be popular all year round (from Wiedemann and Kaheku).
The Christmasworld Trends provide further inspirations, which can be easily adapted for Easter, weddings and birthdays.
Trend Cards on the Christmasworld Trends 2018/19
You can download the Trend Cards on the Christmasworld Trends 2018/19 free of charge here: christmasworld.messefrankfurt.com/trendcards
Simply log in with your login details for the trade fair or register for the first time - you will then be directed to the download page.
Background information on Messe Frankfurt
Messe Frankfurt is the world's largest trade fair, congress and event organiser with its own exhibition grounds. With over 2,500 employees at some 30 locations, the company generates annual sales of around €661* million. Thanks to its far-reaching ties with the relevant sectors and to its international sales network, the Group looks after the business interests of its customers effectively. A comprehensive range of services – both onsite and online – ensures that customers worldwide enjoy consistently high quality and flexibility when planning, organising and running their events. The wide range of services includes renting exhibition grounds, trade fair construction and marketing, personnel and food services.
With its headquarters in Frankfurt am Main, the company is owned by the City of Frankfurt (60 percent) and the State of Hesse (40 percent). * preliminary figures for 2017
For more information, please visit our website at:
www.messefrankfurt.com  |  www.congressfrankfurt.de  |  www.festhalle.de