With free participation in our exclusive Premium Business Programme, we offer you a special 'trade-fair package' of the visionary keynote, specifically themed guided tours and numerous great services for top decision makers for concept decorations. Read here how you can profit from them and participate.
The exclusive networking and lecture programme is aimed at top international decision makers for interior and exterior decorations in shopping centres, commercial enterprises, cities and municipalities, as well as Christmas-market and leisure-park operators, innovative designers and decoration agencies.
Christmasworld is the perfect framework for and, at the same time, a source of inspiration for Premium, the exclusive networking event and lecture programme. When you walk round the fair, for example, you will be able to make contact with large-scale and public decorations specialists and lighting manufacturers.
In 2020, the participants benefited from the high-profile keynote speeche – featuring keynote speaker Sanjay Sauldie, Director Europäischen Internet Marketing Institutes EIMIA, Mannheim. He demonstrated how the changes taking place to the retail industry will also lead to a process of urban renewal and will show the opportunities for all market participants which this offers.
The benefits of taking part in Christmasworld Premium
Free entry to Christmasworld on all days of the fair
Access to the exclusive Premium Lounge with all-day catering
Keynote talk

Guided tours at Christmasworld

Free use of the Tulip Lounge on all days of the fair
Free use of local public transport services (RMV) to and from the fair
Free VIP parking at the Exhibition Centre
Free cloakroom service
Chance to meet top international decision makers and experts from the concept-decoration sector
Registration for Christmasworld Premium
Taking part in the business programme Premium is free of charge. The registration option for Christmasworld Premium has expired. Please contact, if you have any questions: christmasworld-premium@messefrankfurt.com

(As at: 10/2019)
§ 1 Scope
(1) The use of the website and services offered by Messe Frankfurt Exhibition GmbH (hereinafter referred to as MFE) in relation to the membership in the business programme Christmasworld Premium is subject to the following conditions of membership.
(2) Free membership in the business programme Christmasworld Premium is available exclusively for top decision-makers for the procurement of large-scale interior and exterior decorations for commercial and public spaces: Shopping centers and malls, outlet stores, real estate companies, business development associations, business parks, large retailers with multiple branches, furniture stores, hotels, city and municipal marketing organizations, municipal administrations, tourism companies, operators of Christmas markets and amusement parks, as well as any urban planners, architects, agencies or visual merchandisers tasked by the aforesaid entities with designing and organizing decorations.
§ 2 Registration
(1) Prior online registration of members is required before any of the services of the business programme Christmasworld Premium may be used. At the time of online registration, especially to prove the business customers attribute, personal data of members (including company, name, address, email address, telephone number) will be required and will be treated in accordance with the provisions of German data protection legislation.
(2) Members undertake to provide full and accurate information about themselves and their companies, as required by the registration process; they further undertake to inform MFE at christmasworld-premium@messefrankfurt.com immediately of any subsequent changes to these information.
(3) MFE reserves the right to refuse registration to would-be members. The number of members is limited.
(4) After successful registration, applicants will receive an email confirming their membership in the business programme Christmasworld Premium or notification of refusal in case the applicant does not conform to the above-mentioned visitor group, or in case there are no more places available.
§ 3 Services
The services of the business programme Christmasworld Premium are listed on the Christmasworld website. The services that may be called upon through the business programme Christmasworld Premium after confirmation of registration has been received (including free admission ticket etc.) will be available solely to members of the business programme Christmasworld Premium. Services and benefits under the package may not, under any circumstances, be transferred to third parties of any kind. No claim may be made for payment or other alternative in lieu of such services.
§ 4 Rights reserved by MFE
MFE may at all times revoke acceptance to the membership in the business programme Christmasworld Premium, without any obligation to give a reason of any kind and, in particular, if a member:
a) has given incorrect information at the time of registration,
b) has infringed these terms and conditions.
§ 5 Members' obligations
Members must inform MFE immediately, if at any time they become aware that third parties have misused members' details and material.
§ 6 Visual and audio recordings
For all current and future media, the member agrees that the MFE or third parties commissioned by the MFE are entitled, in the context of the Premium business programme and associated services, such as in presentations or tours, to create recordings of the individual, even going beyond reproducing an event from the present day, and to edit them in whole or part and, also in an edited form, to duplicate them, to send and present them, also in audio-visual media, particularly for purposes of advertising the Premium business programme and the MFE, incl. the companies affiliated with it in the sense of Sec. 15 AktG (German Stock Corporation Act).
§ 7 Liability
(1) MFE shall not be liable for any material defects or defect of title (in particular, accuracy, freedom from error, freedom from industrial property rights or copyright with regard to third parties, completeness and/or serviceability) in respect of any services or information provided free of charge at christmasworld.messefrankfurt.com/premium, unless it results from gross negligence or wilful misconduct.
(2) MFE expressly distances itself from the content of the websites of others, for which there may be direct or indirect links at christmasworld.messefrankfurt.com/premium. MFE accepts no liability for either the content or the web pages. Responsibility for the content of such sites remains solely that of the individual provider.
(3) Downloads are undertaken at one's own risk. MFE accepts no liability for damage, such as may occur, through no fault of their own, as a result of downloading, installing, saving or using the software or content of their website.
§ 8 Changes to the terms and conditions
MFE reserves the right to change these terms and conditions at any time. This applies particularly to changes that are required as a result of compelling statutory regulation. Any such changes will be communicated to members by email or newsletter. They will be deemed to have been accepted, unless members decline to accept the change(s) within 14 days either by post or by email. In cases where members decline the changes, MFE reserves the right to cancel their contractual agreement with the member(s) within a month of receipt of notification of unwillingness to accept the new conditions.
§ 9 Opportunity to decline usage of data
Irrespective of and in addition to the statutory obligations pertaining to data storage, members may at any time withdraw their permission for their data to be stored, processed or used. For this they can simply contact us by email at the following address: privacy@messefrankfurt.com. In order to ensure that all requests not to use given member data for advertising or publicity purposes will be respected, the data of those who make such a request will be held in a separate, suitably blocked, list.
§ 10 Final condition
These conditions and the contract to which they pertain are subject to the law of the Federal Republic of Germany. The court of jurisdiction is Frankfurt am Main.
Programme on 27 January 2020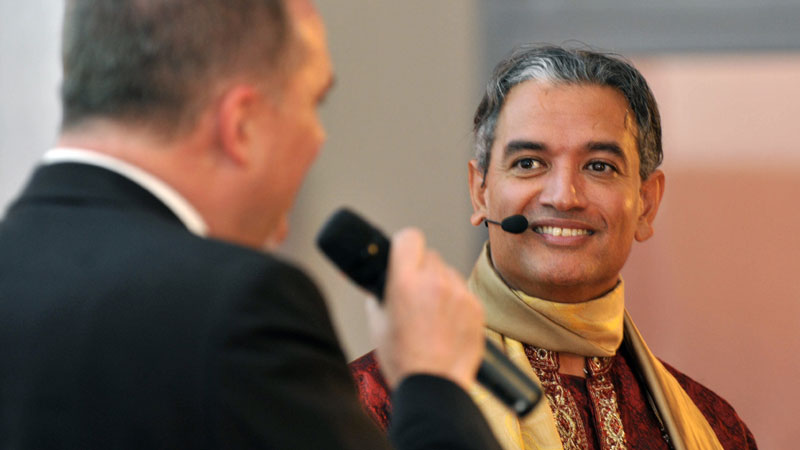 The keynote address by Sanjay Sauldie on the Monday of the fair entitled "Urban regeneration: The internet will not kill shops, it will liberate them!" Among the topics which he addressed was that of how future shopping habits will impact on urban space: the functions of town and city centre and the demands which the retail trade must satisfy are subject to enormous changes. Towns and cities, trades and industries and other market players must cope with complex tasks if they are to stay attractive and viable. That can only succeed in a constructive collaboration.
In addition, exclusive tours were offered round Christmasworld. The tours focused in particular on especially impressive concept decorations and large-scale illuminations.
"The attention of consumers must be awakened using digital means and rewarded by analogue means, e.g., with exclusive and emotional offers. All social-media tools can be used to awaken consumer interest and tempt them into the city."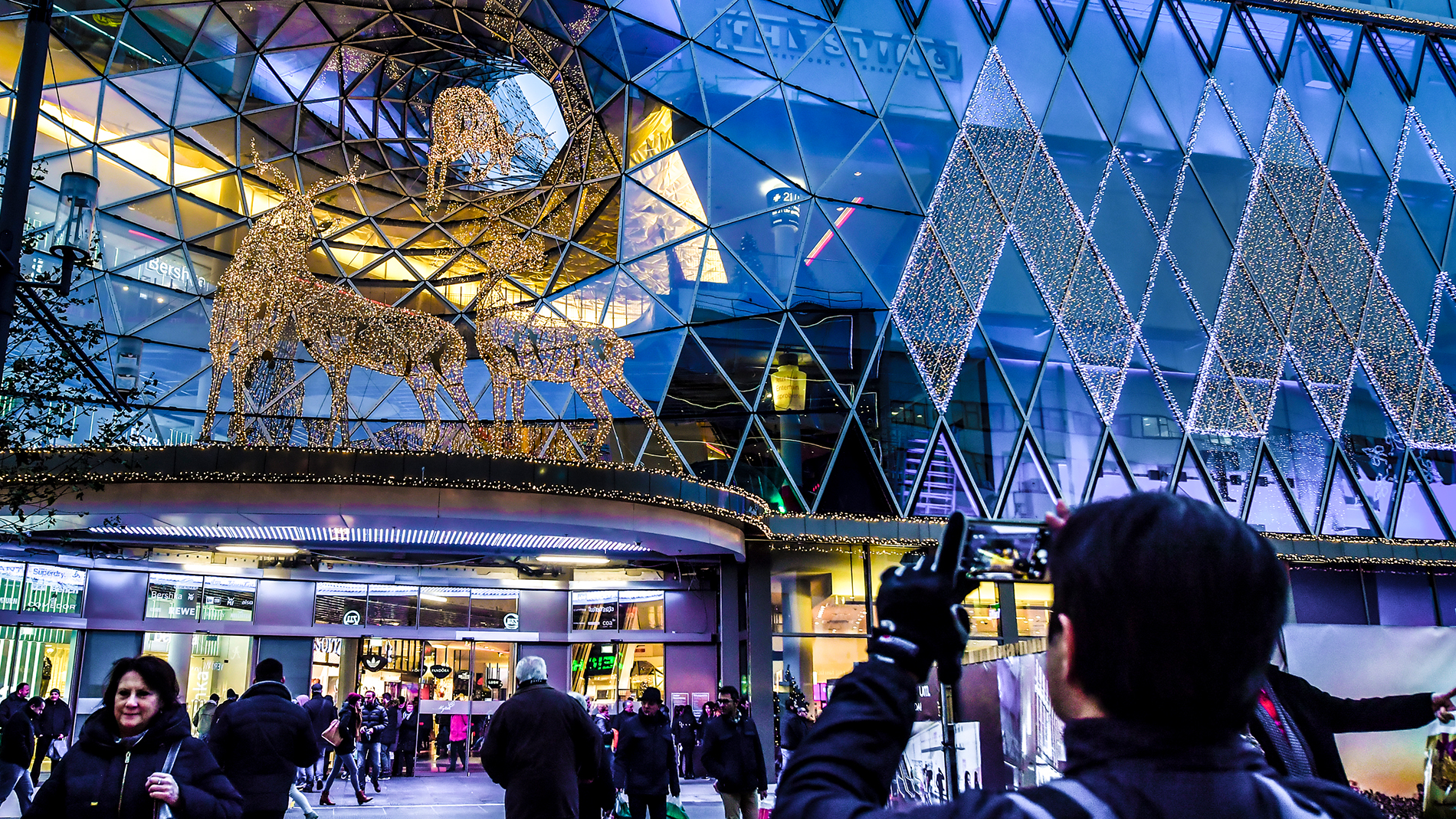 The festive conclusion to the joint day was provided by the prize-giving for the "Best Christmas City" competition. The competition, run by Christmasworld, the German Town and City Marketing Association (Bundesvereinigung City- und Stadtmarketing Deutschland e.V.) and Public Marketing magazine, was held for no less than the sixth time. The search is for atmospheric decoration and retail concepts, uniting retailing, food services and the hotel sector, plus further business and social partners, which will attract locals and tourists into town and city centres during Advent.
Participant impressions and opinions
"I am on the lookout for ideas for attractive Christmas illumination systems. Light can also be used to create an interesting atmosphere and attractive visitor occasions throughout the year. Our job is to ensure both digital and analogue experiences for visitor occasions, at the same time as maintaining a balanced number of events."
"Sanjay Sauldie summarised the subject of digitalisation and the bricks-and-mortar trade perfectly. For our visit to the fair itself, we are hoping for some specific ideas: We see individual Christmas illuminations as being a good way to set ourselves apart and thus make the town attractive for tourism."
"This morning was a source of much specialist knowledge and many impulses. In addition to a large pack of brochures, I am going home with the knowledge that we must regard digitalisation as motivation."
"Sanjay Sauldie's lecture showed me how important it is to increase awareness of digitalisation in the retail trade. Indeed, it is not enough to simply operate an online shop."
"Light is emotion. We installed new Christmas lighting in Jena last year. Planets, stars and galaxies reflect the history of the city and create interesting opportunities for digital communication."
"The event concentrates several advantages for me. This was the first time I have taken part and I am really delighted with it. What is offered here is very valuable, especially for small towns such as mine."