As the world's leading trade fair for festive and seasonal decoration, Christmasworld in Frankfurt am Main exercises a magnetic power of attraction on top buyers from the wholesale, import / export and retail trades who make their way to Frankfurt am Main to place their main orders for the year. Discover the most important facts and figures about Christmasworld here.
Most important date for the decoration and festive decorations sector
Christmasworld focuses on the strongest-selling and most emotional time of the year and exploits the success factor of experience at the point of sale like no other consumer-goods trade fair. This makes it the world's most important ordering event for the international decorations and festive decorations sector. Every year in Frankfurt, it presents the latest products and trends for Christmas and all other festive occasions. In addition, it provides innovative concept ideas for the decoration of large and outdoor areas for wholesalers and retailers, shopping centres and city centres.

Trade visitors by sector
Every year, the radiant appeal of the festive decorations to be seen at Christmasworld attracts top buyers from the wholesale, import / export and retail trades who place their main orders for the year. If you come from these sectors, you can be sure of finding what you are looking for in Frankfurt: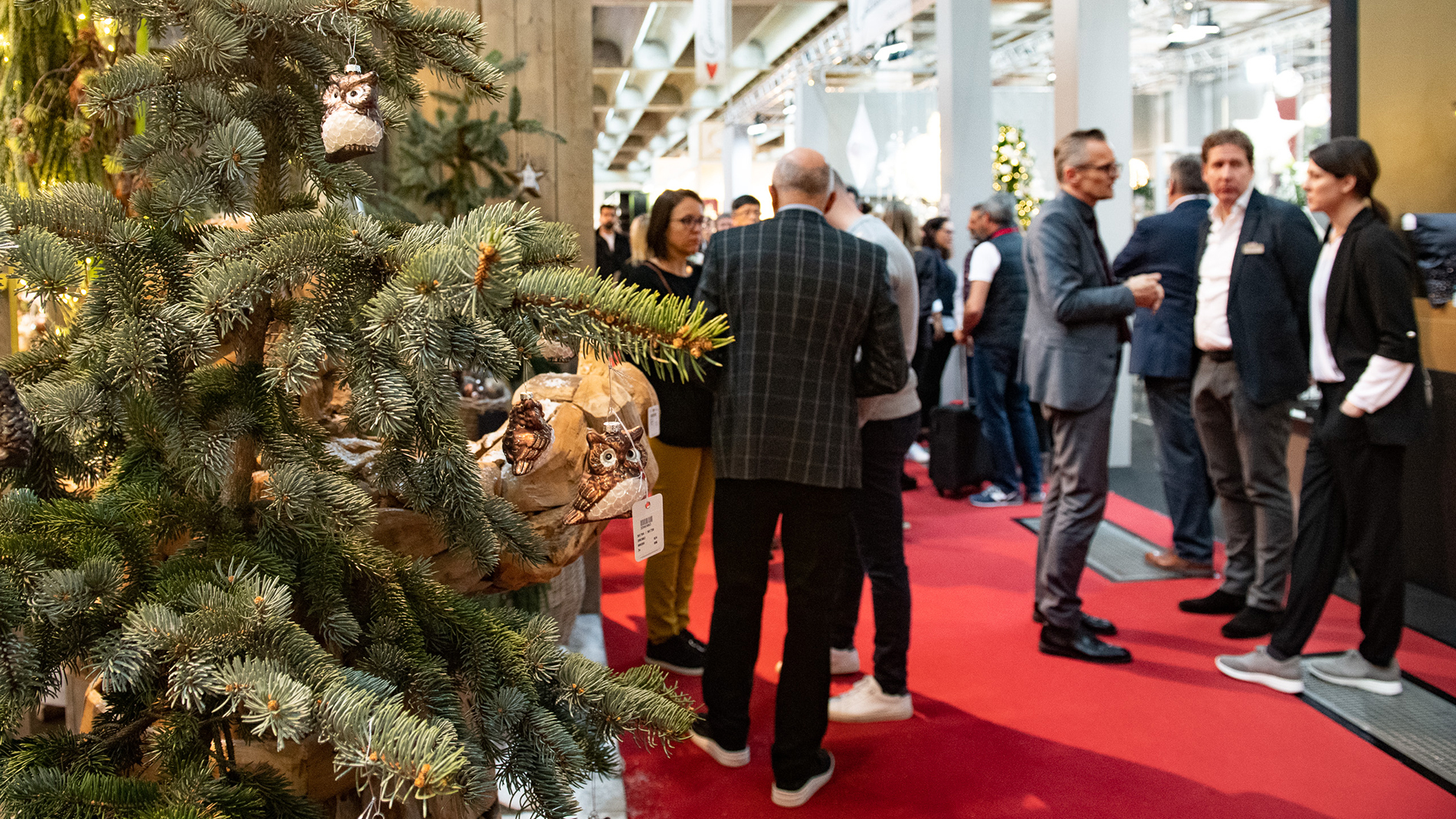 Garden centres
DIY stores
Florist shops and floristry wholesalers
Supermarket chains and discounters
Gift boutiques, glass, porcelain and ceramics shops
Furniture and furnishings stores
Drugstores
Shopping centres and city marketing
Decoration companies and visual merchandising
Restaurant, hotel and catering trade
Event agencies
'After two years of pandemic, Christmasworld will be a special international event for us. We have missed the personal contact with our customers to show them our innovations, present our products live and have a good time.'
'Our presence at Christmasworld is important for us because it gives us a unique opportunity to promote our company to a large number of potential customers and market players. We can also get visitors of Ambiente and Creativeworld excited about our products. Here, we see the opportunity for additional new customers.'
'Our products live from the emotionality given to them. We consider the fact that Christmasworld is held at the same time as Ambiente and Creativeworld to be a consistent and efficient solution. For visitors, it creates an incomparable opportunity to order combined product ranges in one visit to the fair and, for exhibitors, a cost-optimised opportunity to present themselves to an even broader public.'
Christmasworld 365 days a year
Network at any time via the digital features of Christmasworld: the online exhibitor search, the Conzoom Solutions platform for retailers and nmedia.hub, the digital order fair for Home & Living. Our graphic shows you which functions will be available from when. So that you can plan your participation perfectly.
Christmasworld 2020 in figures
In 2020, 42,834 visitors from 128 countries attended Christmasworld to discover the latest products and trends being shown by 1,063 exhibitors from 47 countries.
Christmasworld is one of the most international fairs in the Messe Frankfurt portfolio of consumer-goods fairs (66% of visitors and around 80% of exhibitors come from outside Germany). Their strength is the clear focus on Christmas and seasonal decoration.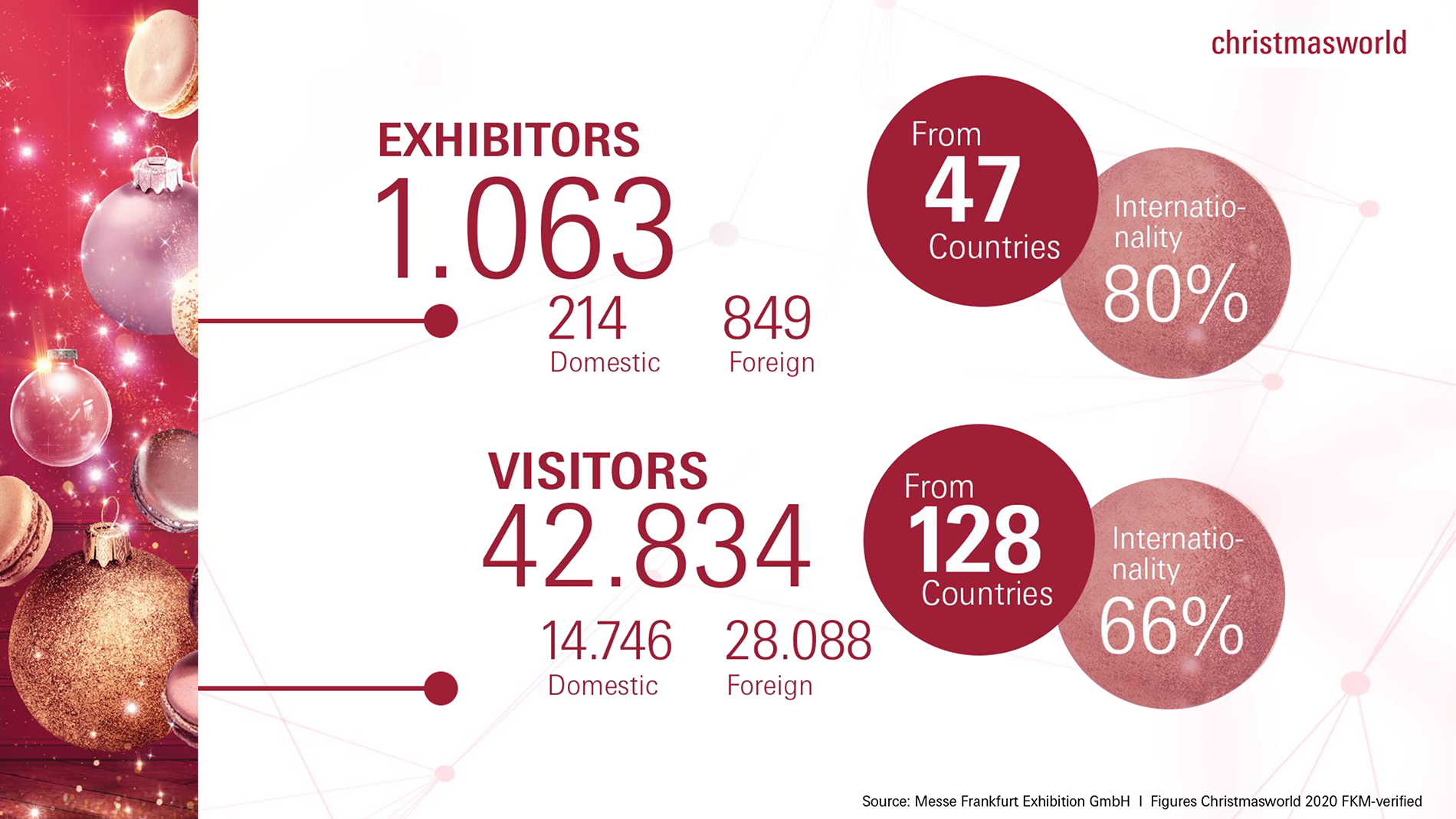 Impressions of Christmasworld 2020