How can retailers impress their customers? What new themes, colours, and designers will be stamping their mark on the new festive season? By identifying trends from various currents in society, in interior design and fashion, Stilbüro bora.herke.palmisano will be providing some helpful and stimulating ideas for the design of your selections, collections and showroom displays. Find out here what the hot properties of tomorrow will be.
Using exhibitors' products, bora.herke.palmisano stage three trends for the coming festive season at Christmasworld. Don't miss the opportunity to gain inspiration and select your personal favourites from next season's themes, colours, designs and materials, with which you can create your own individual sales range. All products featured will be identified with the exhibitor's name and stand number. In addition, visitors will be able to get trend cards free of charge from the Christmasworld Trends information stand in Hall 11.0, C 40
The experts from Stilbüro bora.herke.palmisano will be giving trend talks every day during Christmasworld and will be there to explain the three style scenarios. The trend lectures will take place from 24 to 27 January 2020 at 11.00 and 13.00, and on 28 January 2020 at 12.00.
Christmasworld Trends for 2020/21
The trends of the coming festive season revolving around sociability, solidarity and belonging – having something in common; sharing something. Accordingly, the main theme is entitled FAMILY MATTERS and you can look forward to three worlds of style: silken party, green ritual and happy get-together.
green ritual – inspired by natural vegetation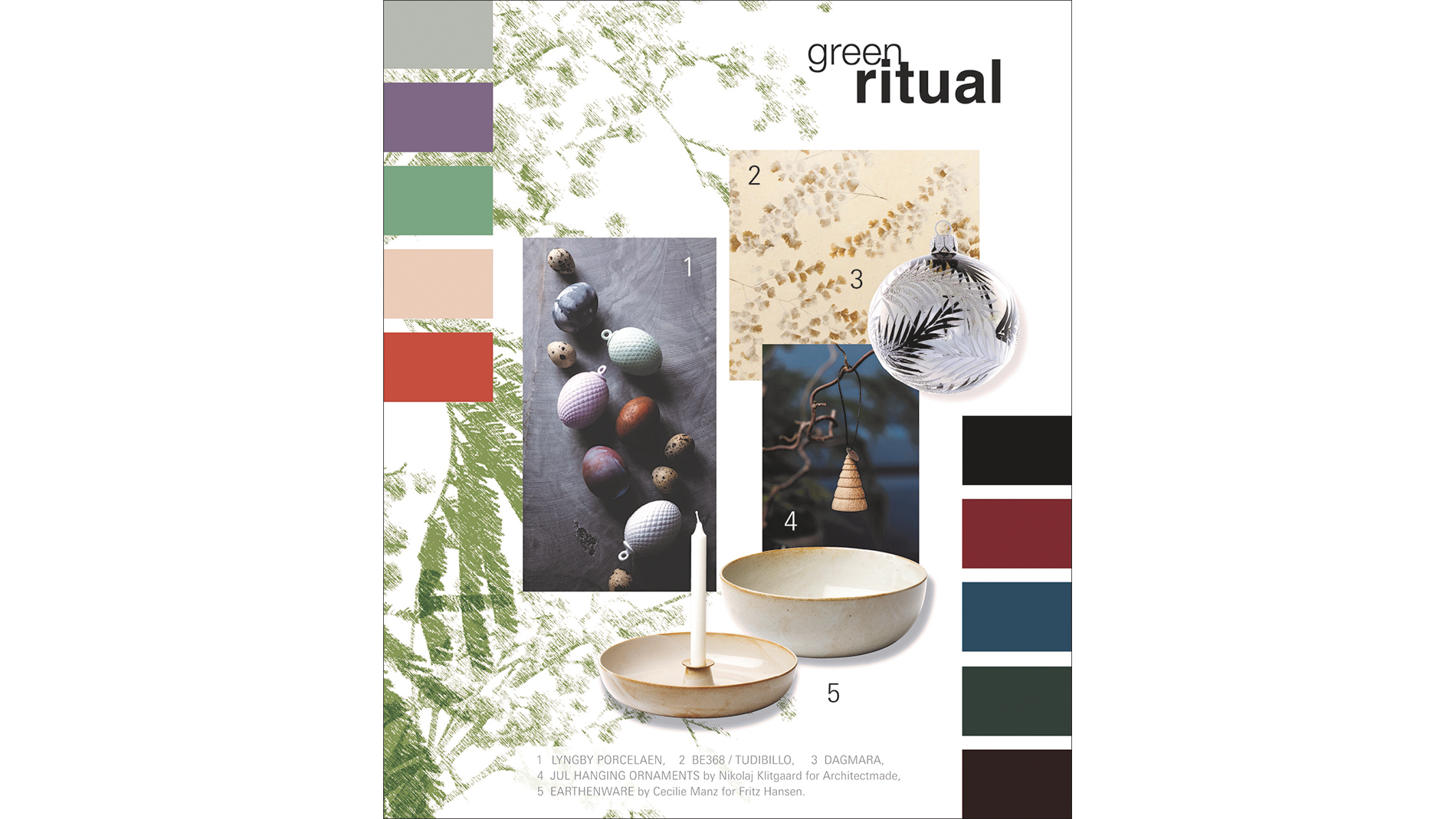 'green ritual' presents the calm colours of natural vegetation in two clearly distinct forms. In one half of the display, light and restrained shades, such as grey, taupe and sand, as well as a light fern green and reddish brown, dominate. In the other half, a mysterious and vegetative dark colour world dominates, with deep shades of red and dark leaves, which autumnal changes bring.
Experimental and creative ideas, techniques, designs and materials are up against this restrained look. Blossoms and leaves worked in glass and paper, painted plants, vegetative and photo experimental motifs, watercolour effects, irregular and spotted patterns, as well as tactile, raw and rough surfaces, can be seen. Many of the designs have a deeper background. In a contemporary way, clay and glass work together with pale wood in simple functional shapes.
silken party – inspired by the most innovative fashion creations and created with precision laser technology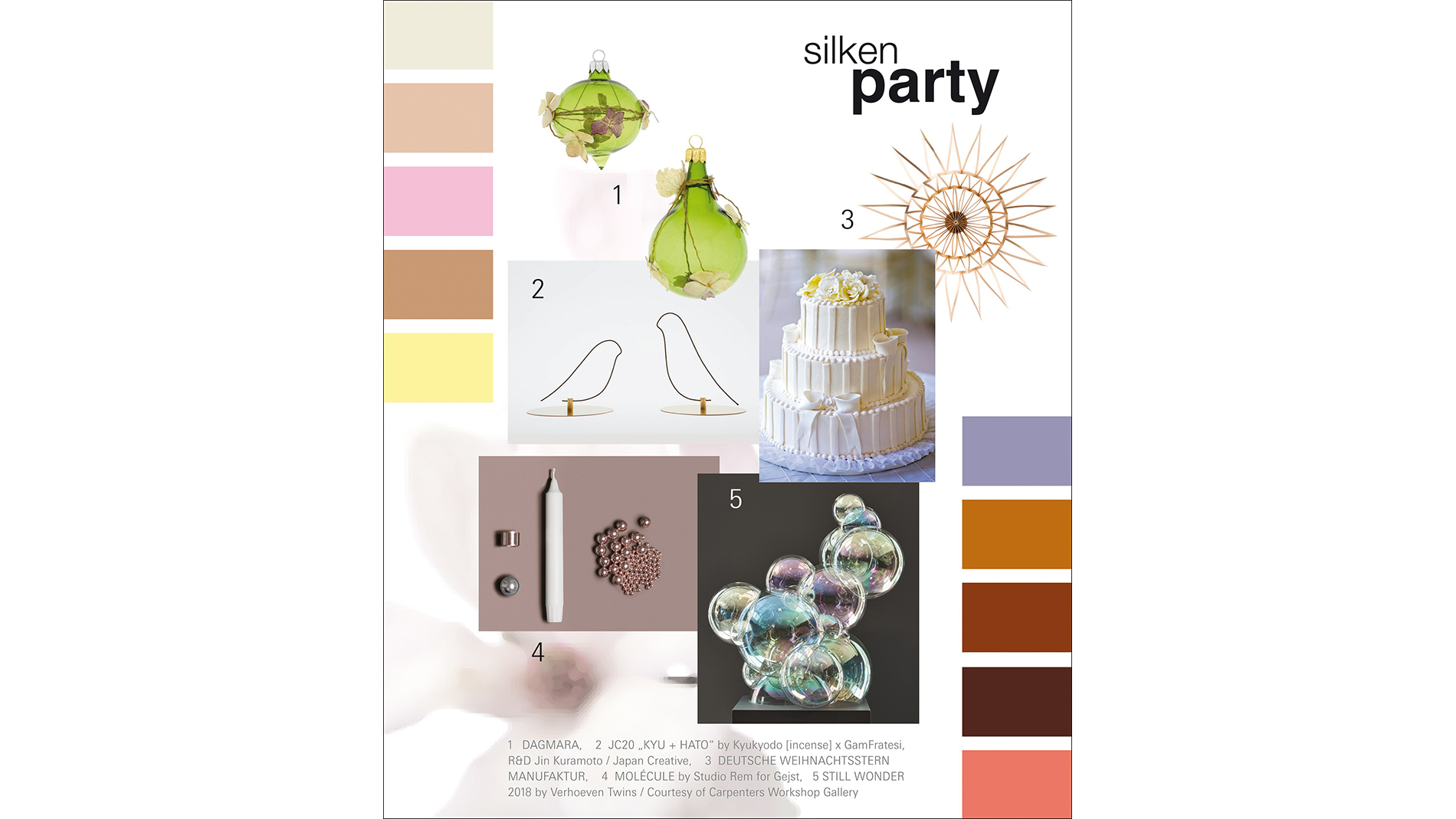 'silken party' presents a balanced palette: on the one hand, the delicate, pastel colour range combines soft creamy shades and fresh, feminine sorbet nuances. The second variant exhibits elegant and gleaming features, with warm and delicate shades.
The materials and embellishments are delicate as well as feminine. A metallic shimmer, a silky sheen and velvety matt effects interplay with each other. Modern drapery, soft volumes and flowing materials produce cosy effects. Fine glass and textiles, such as silk and organza, appear wafer-thin, translucent, super-fine and delicate. The exquisite overall look is complemented by shiny, ultra-smooth surfaces, high-quality finishes and discretely twinkling and softly sparkling effects.
happy get-together – inspired by the new urban way of life, with a focus on recycling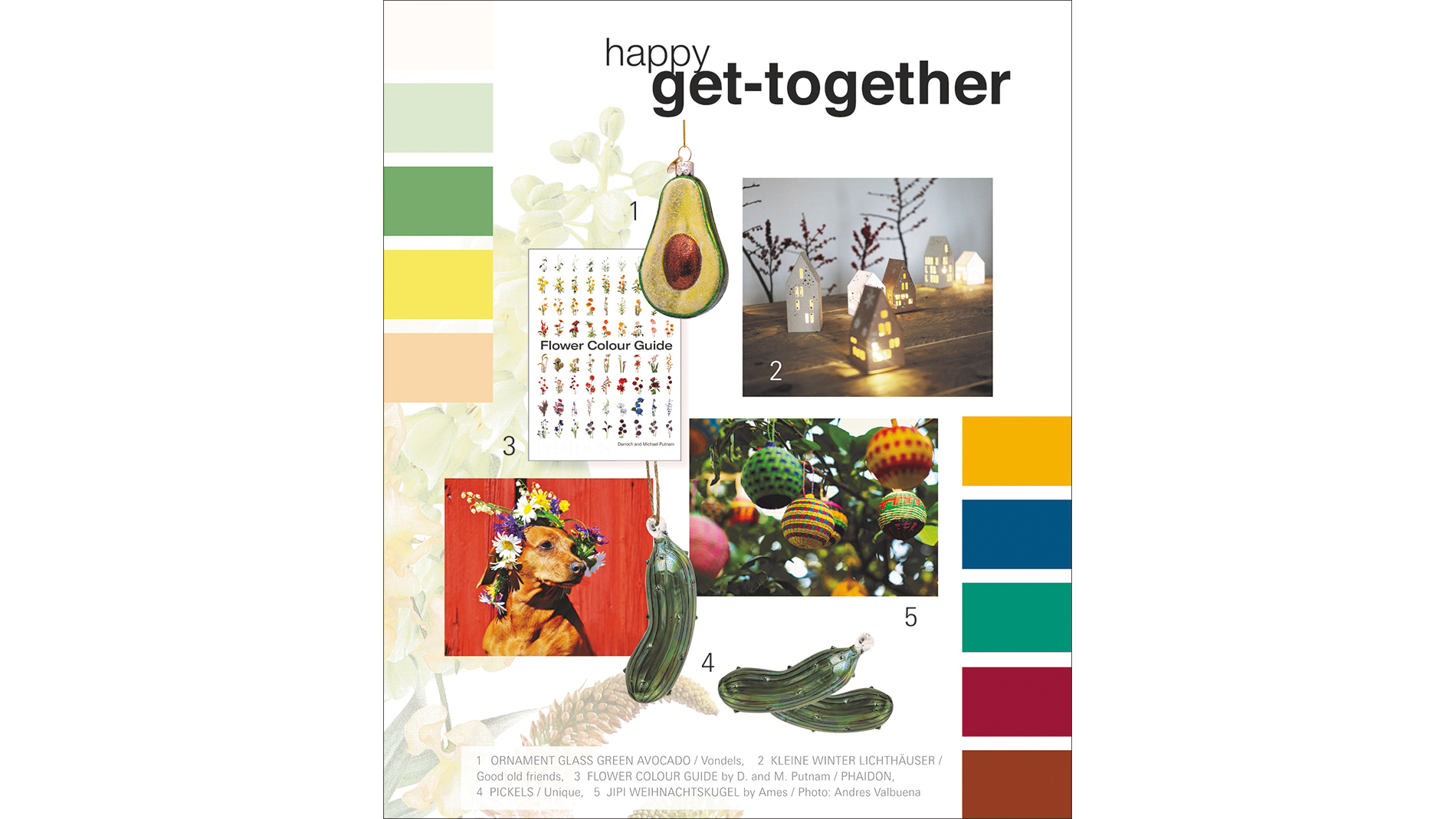 Fresh, appetising and milky shades remind us of freshly-pressed lemons, limes and mint lemonade, as well as grain and straw. The warm colour spectrum is dominated by a vibrant orange wax colour and more muted recycled colours, such as bottle green, and mélanges, speckled effects and colour mixes made by composite processes.
The 'Second Life' concept pervades the entire product world: from waste products, designers are developing exciting ideas for new shapes, surface textures and materials, such as PET and paper materials. The look of this style is characterised by unconventional ideas and handcrafted techniques, such as weaving, winding, tying and layering.
Review: Christmasworld Trends 2019/20
The Christmasworld Trends for the festive season 2019/20 are 'tender festivities', 'essential ceremonies', 'sweet traditions' and 'luminous celebrations'. Four emotional worlds of style spotlight festive decorating and offer the trade an exclusive tool for assortment compilation. In addition to poetic and sensitive designs, glamorous styles and original decoration ideas are also represente.
For more information, please click on the trend chart:
Moon, moonlight, stars and stardust are the inspiration for 'tender festivities'. This festive decoration has a clean, reductionist impact, playing with unusual shapes and surfaces. The colours range from pale pastel and neutral, purist shades to a cool gold.
'essential ceremonies' is a style full of emotion that combines modernity with natural colours and rustic materials. When it comes to festive decorations, hand-made and natural items are what catch the eye. There is a predominance of earthy, warm tones and a matcha green. The result is unpretentious table decorations for festive occasions – but also for those special moments that one wants to enjoy in everyday life.
'sweet traditions' bubble over with wit and charm; shades of ginger bread, peach, nougat, bittersweet colours, strawberry ice, rum and raisin, coconut and evergreen whet the appetite for ever more colour. The patterns are creative, the motifs cute and pretty. There is a brightly-coloured mix of Norwegian patterning, repeats, checks, diamonds, edgings and trimmings, hand-written patterns and drawings.
'luminous celebration', a scenario full of party-time glitz and glamour, futuristic music, sparkly effects and iridescent Christmas garb, starring vibrant colours and glamorous surfaces. Vibrant colours, combined with elegant dark tones run into one another – together with iridescent surfaces, they create a spectacular setting.
How to implement the trends:
Impressions of the trends at Christmasworld 2019