The Chrsitmasworld Trends show new themes, colours and designers for the coming festive season. "Together" marks a new era of Christmasworld and Paperworld trends, whose product and style worlds are increasingly converging in global consumer trends. The logical consequence is three joint trend statements. Discover the latest trends and get inspiration for your assortment.

By identifying trends from various currents in society, in interior design and fashion, the Christmasworld Trends are providing some helpful and stimulating ideas for the design of your selections, collections and showroom displays. Find out here what the hot properties of tomorrow will be.
Using exhibitors' products, bora.herke.palmisano stages the trend area at Christmasworld. Don't miss the opportunity to gain inspiration and select your personal favourites. All products featured are identified with the exhibitor's name and stand number.
Christmasworld & Paperworld Trends 2021/22: Together
Together is a powerful term at this moment in time and represents standing together in times of crisis. The pandemic has turned our world upside down. Physical distancing has caused people to come closer. This is reflected in the 2021/22 trends. "Together" marks a new era for the Christmasworld and Paperworld trends, whose product and style worlds are increasingly converging in global consumer trends. The logical consequence of this are the three common trend statements: contemplative approach, heirloom feelings and spirited response.
 
The Christmasworld and Paperworld trends in a new, cooperative presentation inspire to create successful product ranges that open up new worlds for your customers.
contemplative approach – focuses on nature.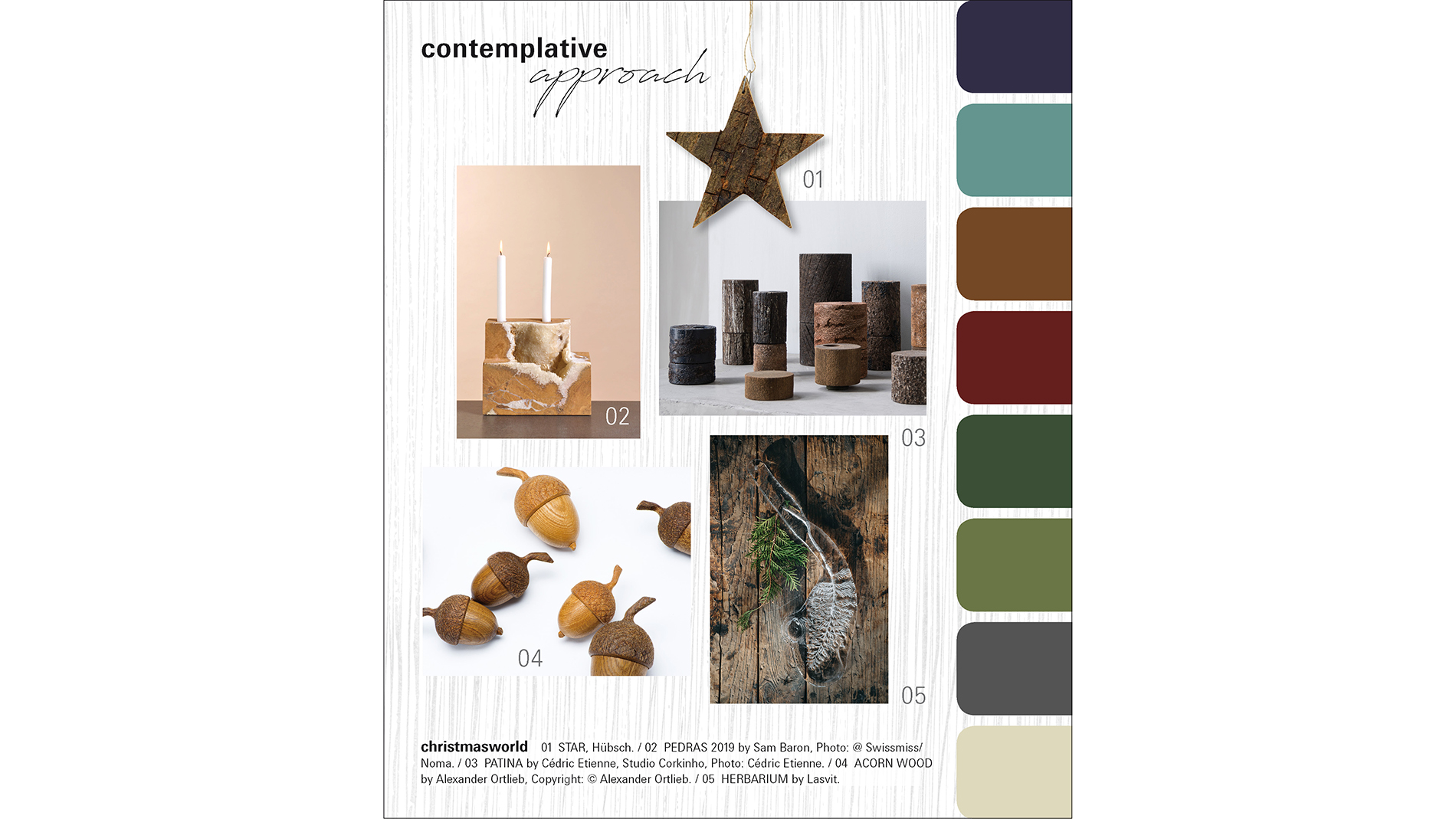 In this style world, the material takes pride of place in the design. Renewable materials such as cork, bark, jute, grass and wood determine the unpretentious look together with metal, marble and stone. The materials remain in their natural state, are roughly hewn, broken, woven or rudimentarily processed. The tactile feel is important. So in addition to the rustic surfaces, finely polished, hand-caressing finishes emphasize the beauty of nature. Old craftsmanship is being revived. With seasonal decorations, clay and ceramics with a rough, sandy appearance look genuine and natural. The forest provides an abundance of designs and motifs, including acorns, bark, leaves, nuts, cones and fruits.
The colour palette emphasises the restrained mood and the tactile materials - these include dark juniper berry, light green, fawn brown, red beech, matt green, moss, basalt green and a warm, light stone shade.
heirloom feelings – reflects on poetry and gracefulness.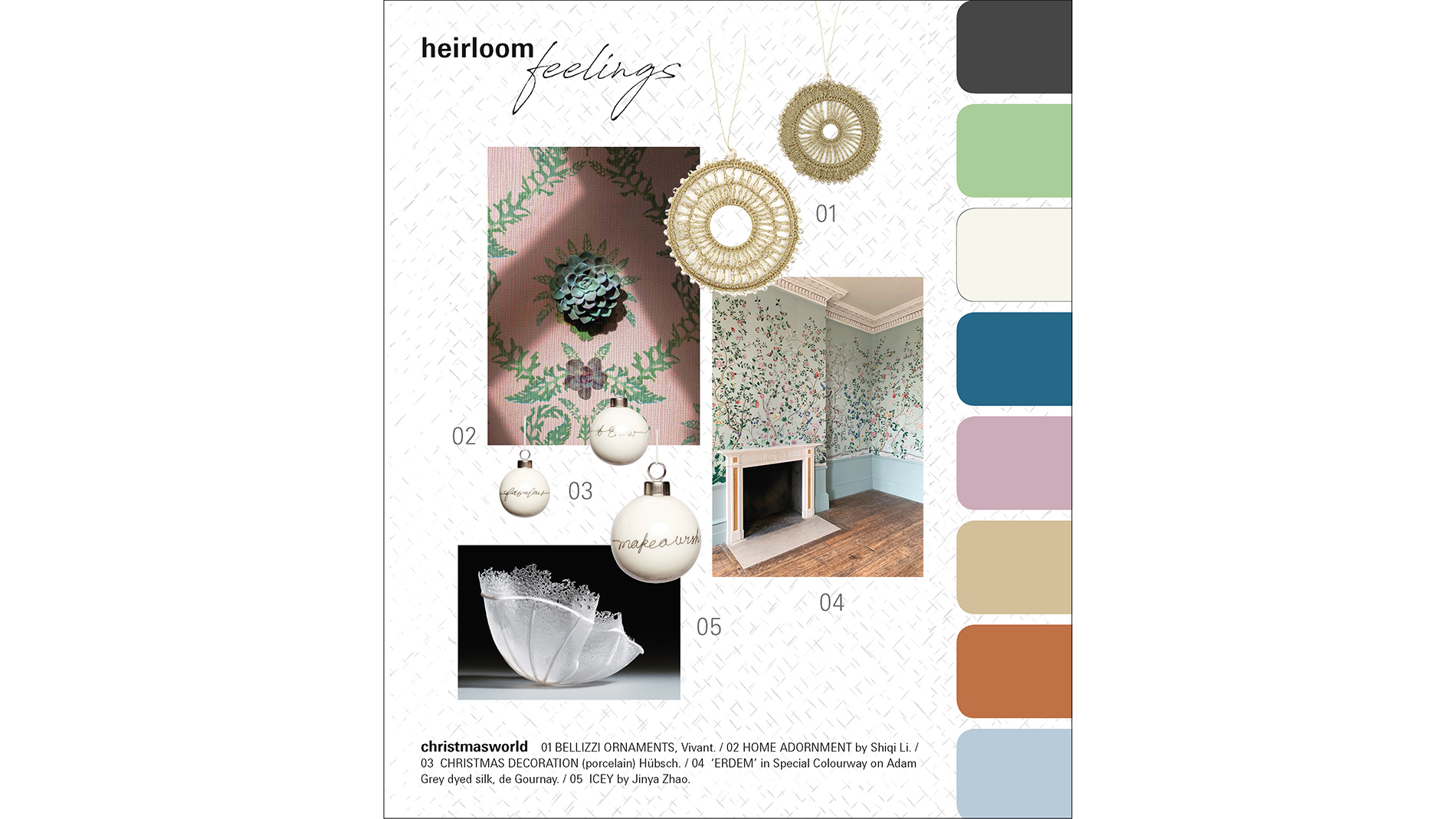 This poetic, young style opens up an optimistic perspective. Numerous artistic and playful aspects can be discovered in the design, including more down-to-earth interpretations in delicate hues. The cheerful, lively flora is striking. Blossoms, scattered flowers, mille fleur and vines sprout alongside frills, fine graphic designs, necktie and chequered patterns. The numerous romantic tapestries are in the foreground here as quotations from a golden era. The joy of adorning is reflected in every aspect of the product and of life: from festive decorations, gift wrapping papers and greeting cards to stylish working and writing.
The colour range combines sensitive, optimistic tones. The palette extends from a velvety mouse-grey, delicate lime green, cloudy white and dark topaz to a romantic shade of rose, from light almond to a red tone and soft, airy sky blue.
spirited response – inspires with sustainable solutions.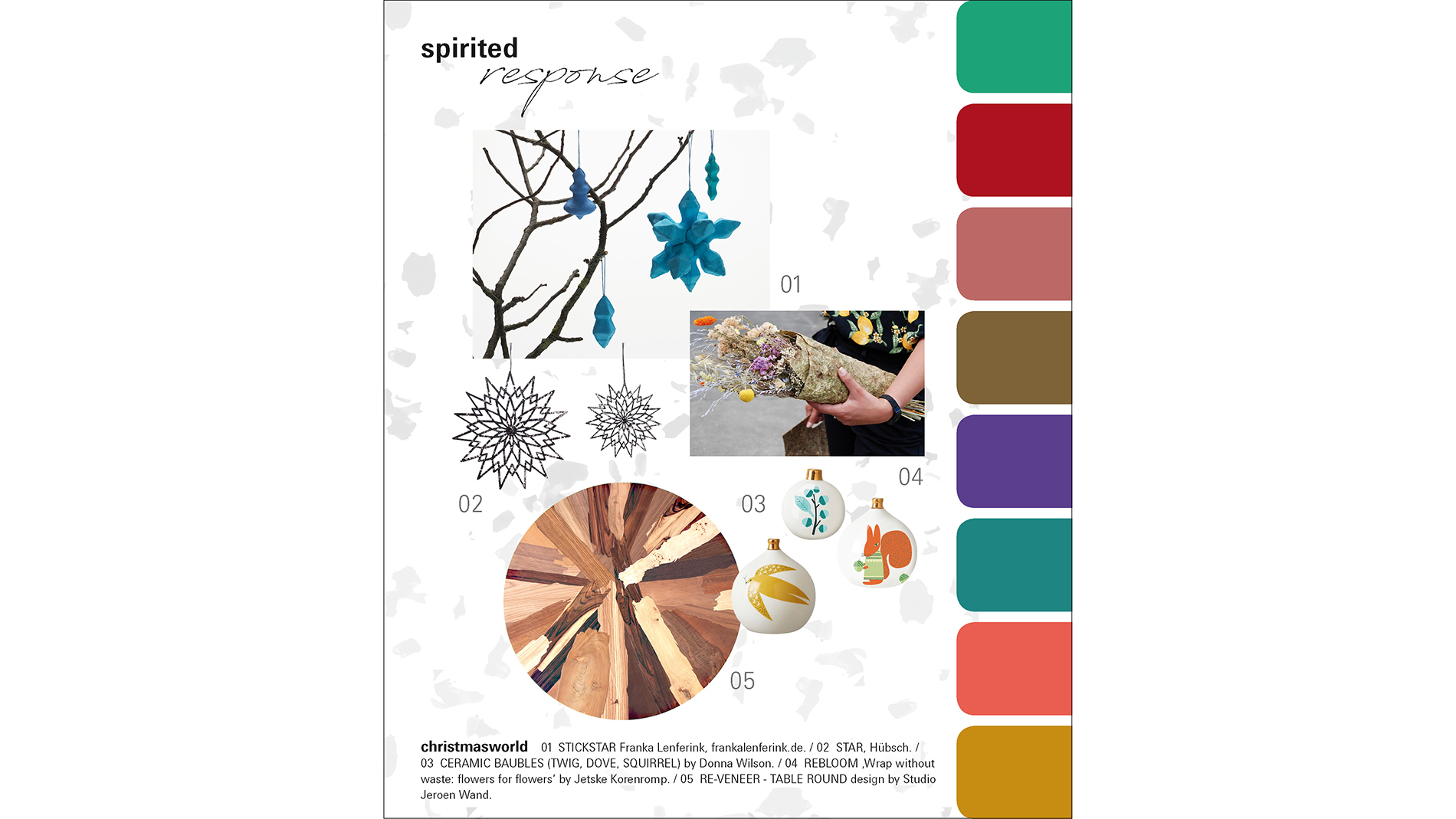 Not a trend, but a necessity. This style world presents attractive alternatives and unconventional solutions that focus on zero waste, a circular economy and up & recycling. Here the emphasis shifts to the arrangement of the home office for job and school. The design is handcrafted, creative, cheerful, colourful and uncomplicated. Organic forms and eye-catching, illustrative designs reminiscent of the 1960s have a strong impact. Hand written or drawn print motifs, childlike sketches and ideas with an improvisational character round off the original style.

spirited response shows a vibrant combination of everyday work and festive decorations. The colour palette combines vivid shades with random melanges that result from different recycling processes. Paper waste is transformed into papier-mâché, and old fabrics or cords become creative materials for new objects.
Review: Trends for 2020/21
The trends of the festive season 2020/21 revolving around sociability, solidarity and belonging – having something in common; sharing something. Accordingly, the main theme is entitled FAMILY MATTERS and you can look forward to three worlds of style: silken party, green ritual and happy get-together.
green ritual – inspired by natural vegetation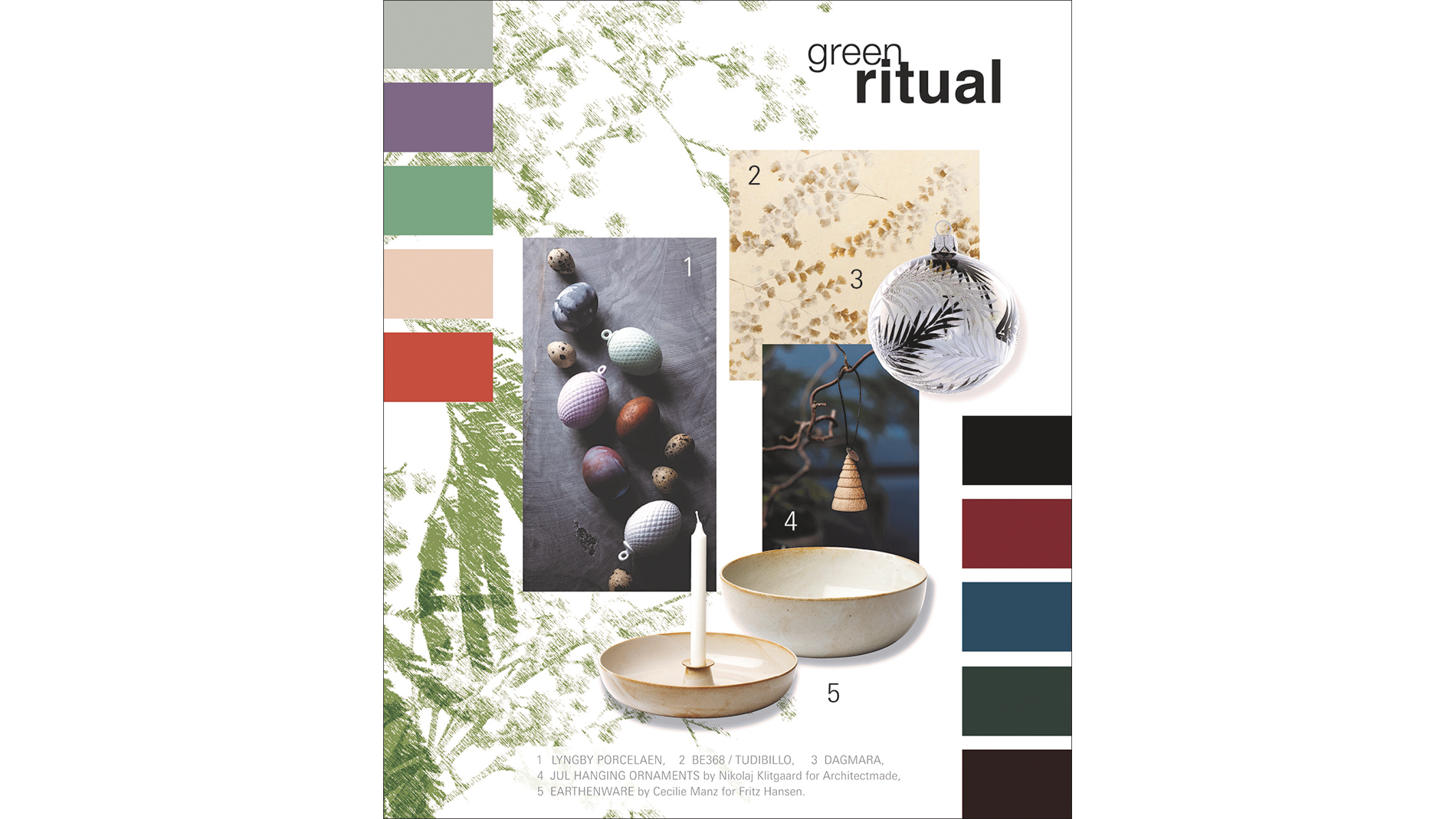 'green ritual' presents the calm colours of natural vegetation in two clearly distinct forms. In one half of the display, light and restrained shades, such as grey, taupe and sand, as well as a light fern green and reddish brown, dominate. In the other half, a mysterious and vegetative dark colour world dominates, with deep shades of red and dark leaves, which autumnal changes bring.
Experimental and creative ideas, techniques, designs and materials are up against this restrained look. Blossoms and leaves worked in glass and paper, painted plants, vegetative and photo experimental motifs, watercolour effects, irregular and spotted patterns, as well as tactile, raw and rough surfaces, can be seen. Many of the designs have a deeper background. In a contemporary way, clay and glass work together with pale wood in simple functional shapes.
silken party – inspired by the most innovative fashion creations and created with precision laser technology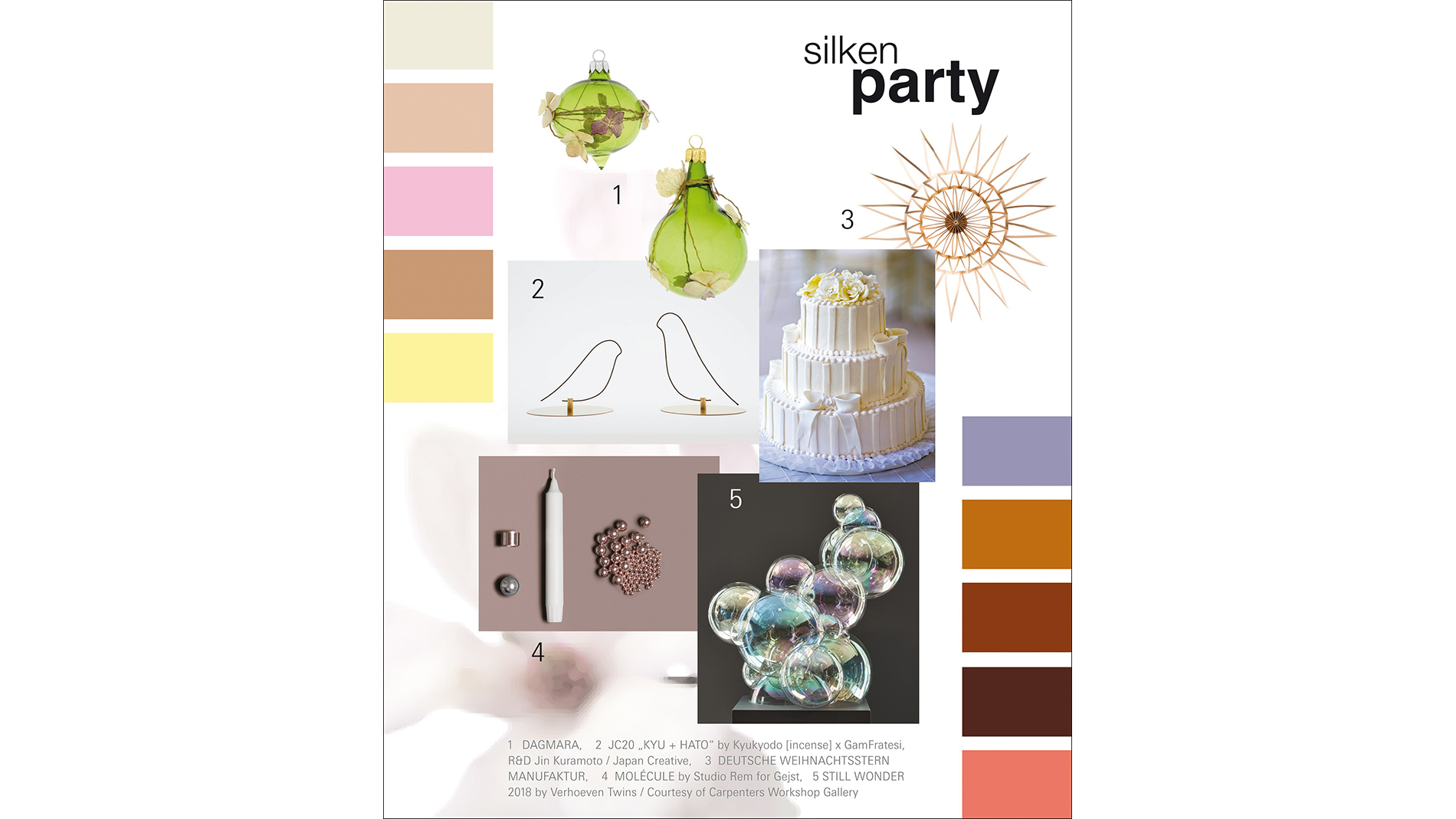 'silken party' presents a balanced palette: on the one hand, the delicate, pastel colour range combines soft creamy shades and fresh, feminine sorbet nuances. The second variant exhibits elegant and gleaming features, with warm and delicate shades.
The materials and embellishments are delicate as well as feminine. A metallic shimmer, a silky sheen and velvety matt effects interplay with each other. Modern drapery, soft volumes and flowing materials produce cosy effects. Fine glass and textiles, such as silk and organza, appear wafer-thin, translucent, super-fine and delicate. The exquisite overall look is complemented by shiny, ultra-smooth surfaces, high-quality finishes and discretely twinkling and softly sparkling effects.
happy get-together – inspired by the new urban way of life, with a focus on recycling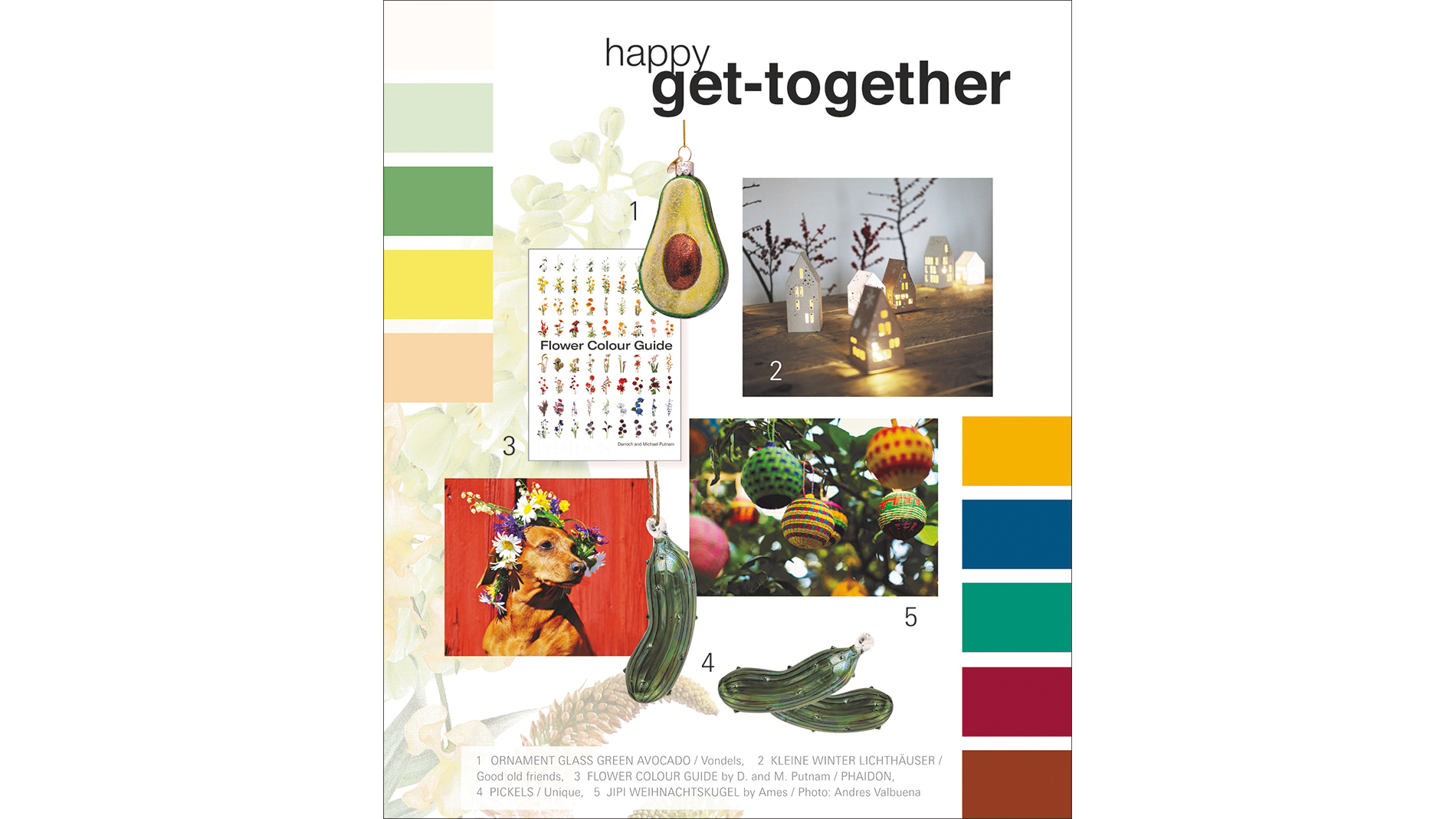 Fresh, appetising and milky shades remind us of freshly-pressed lemons, limes and mint lemonade, as well as grain and straw. The warm colour spectrum is dominated by a vibrant orange wax colour and more muted recycled colours, such as bottle green, and mélanges, speckled effects and colour mixes made by composite processes.
The 'Second Life' concept pervades the entire product world: from waste products, designers are developing exciting ideas for new shapes, surface textures and materials, such as PET and paper materials. The look of this style is characterised by unconventional ideas and handcrafted techniques, such as weaving, winding, tying and layering.
Picture gallery: Christmasworld Trends 2020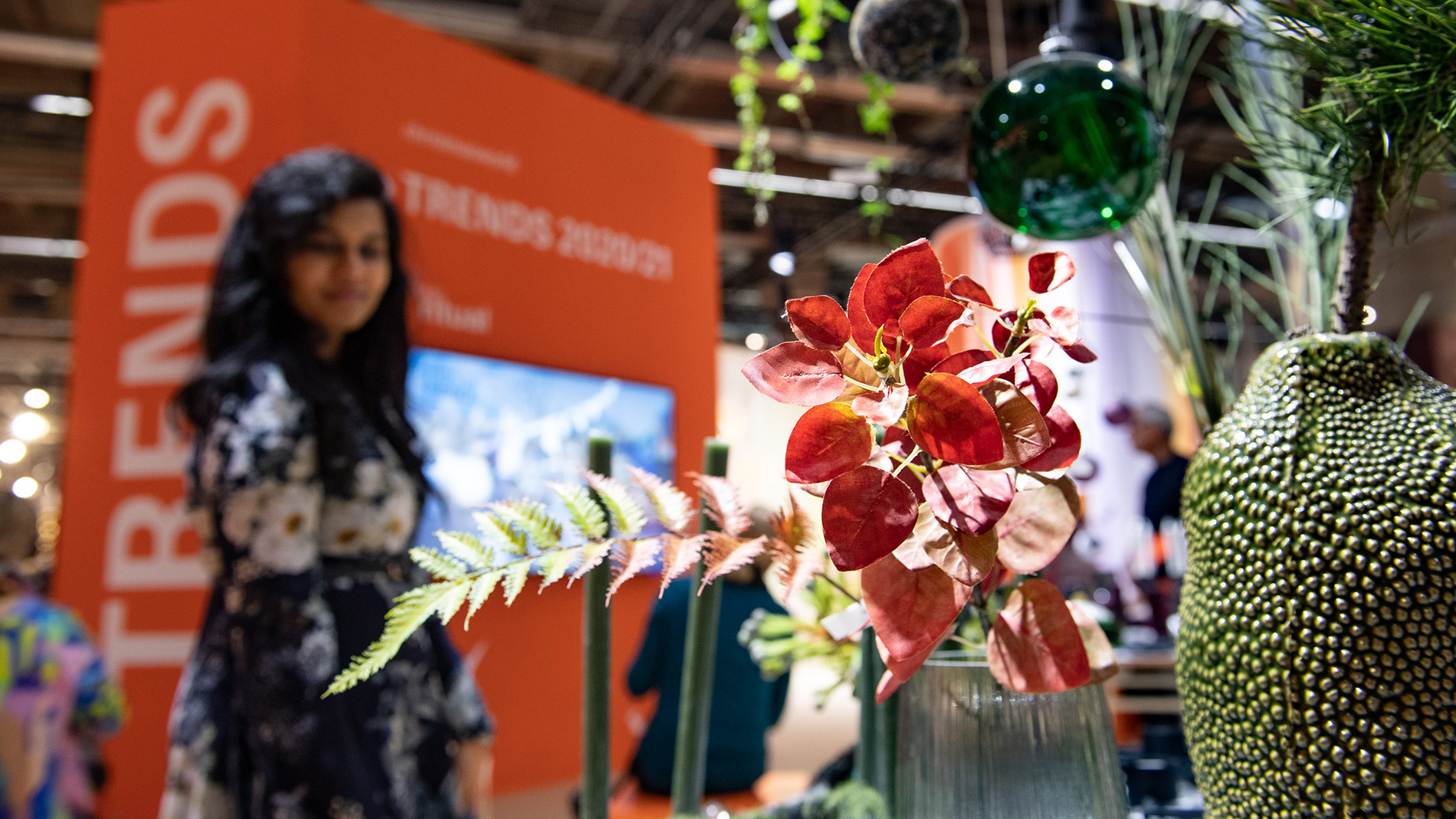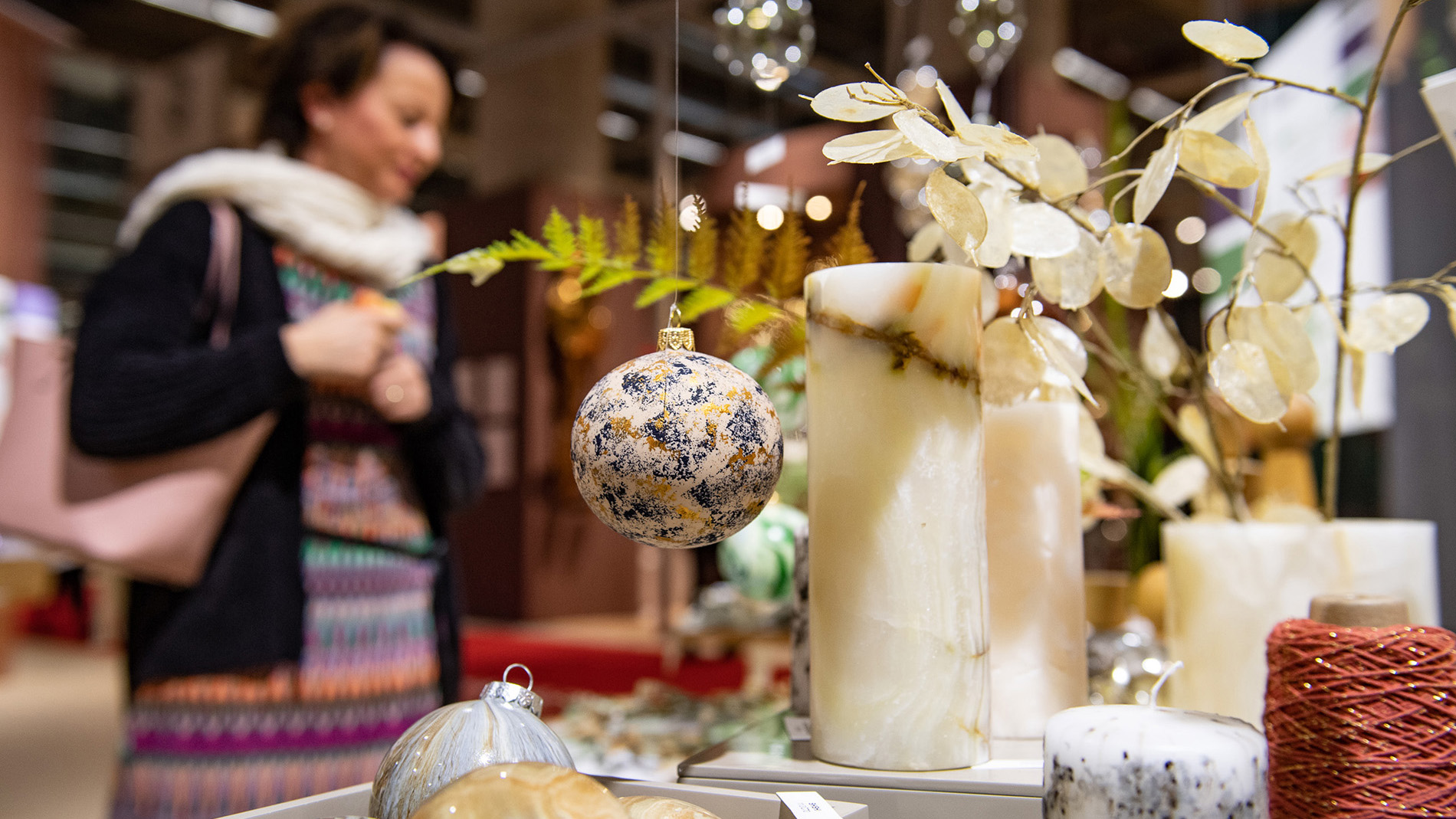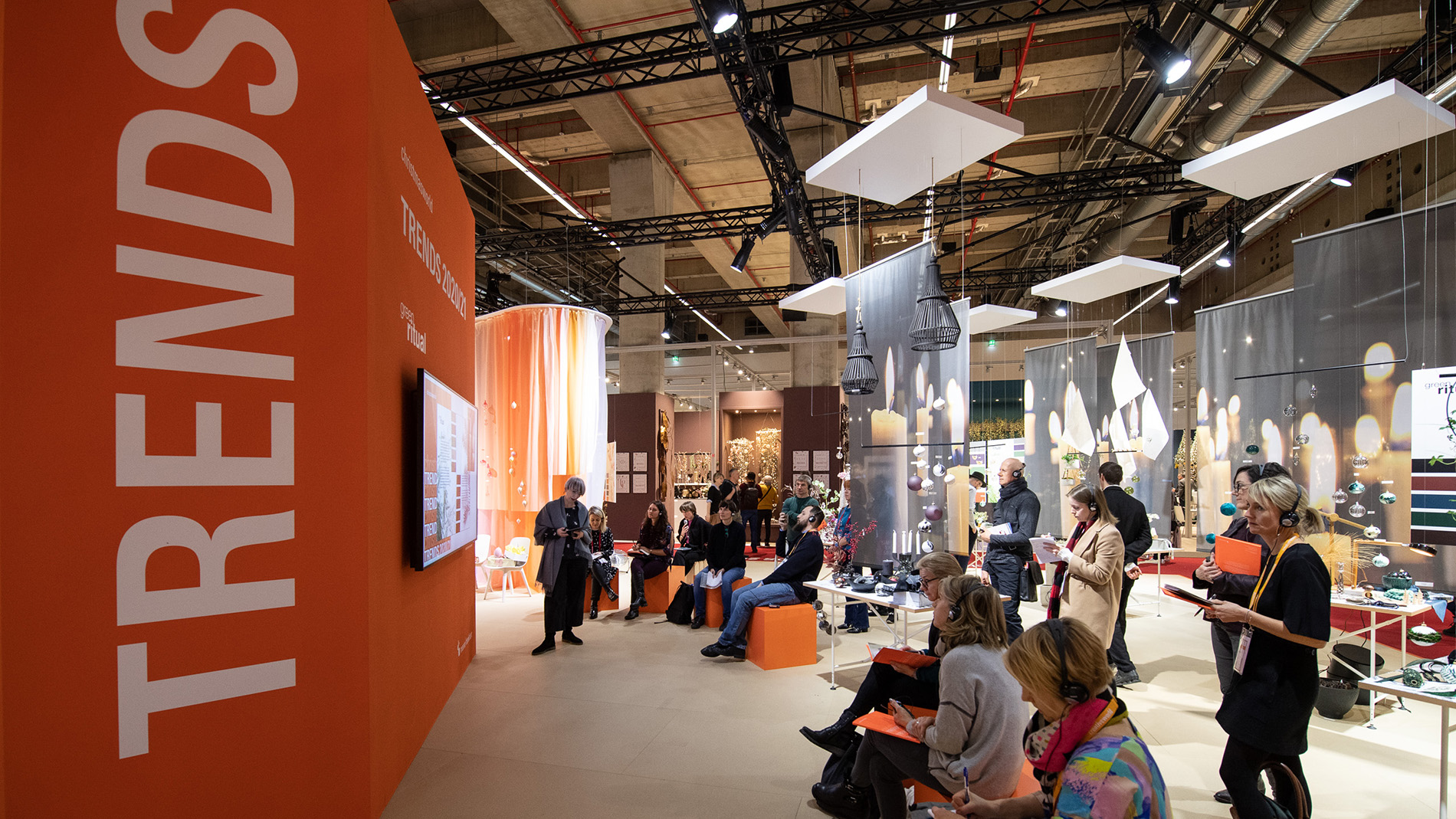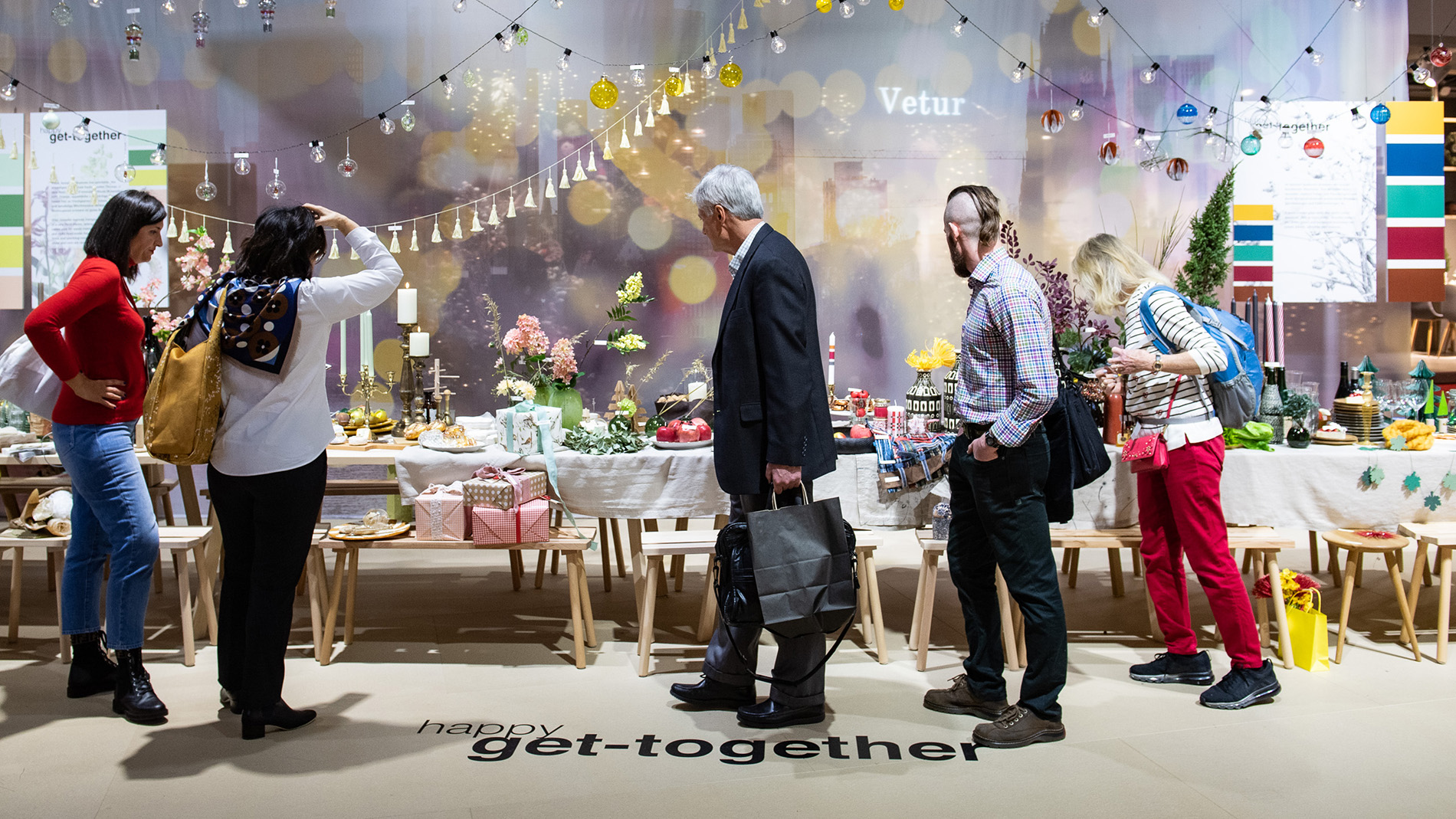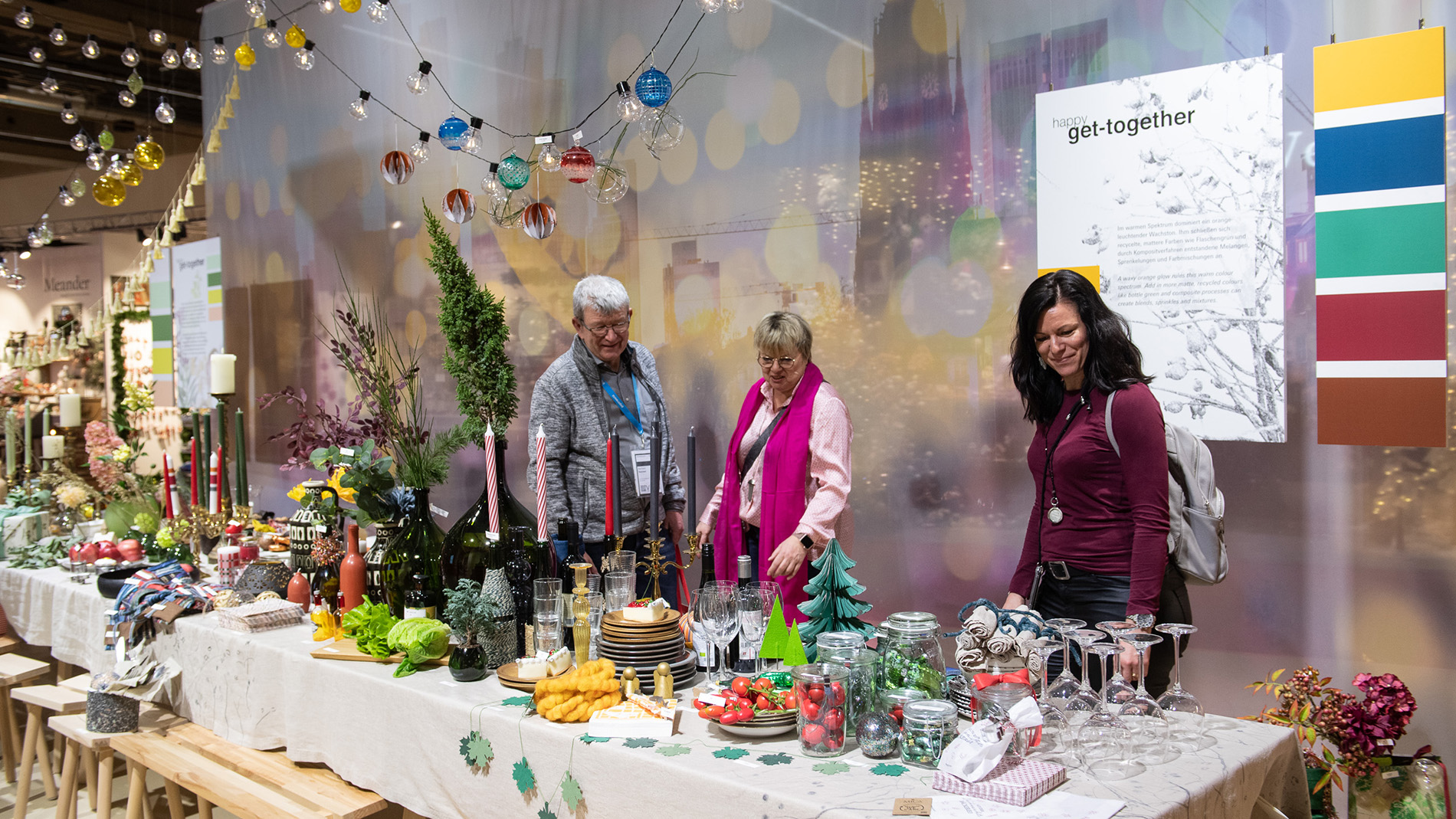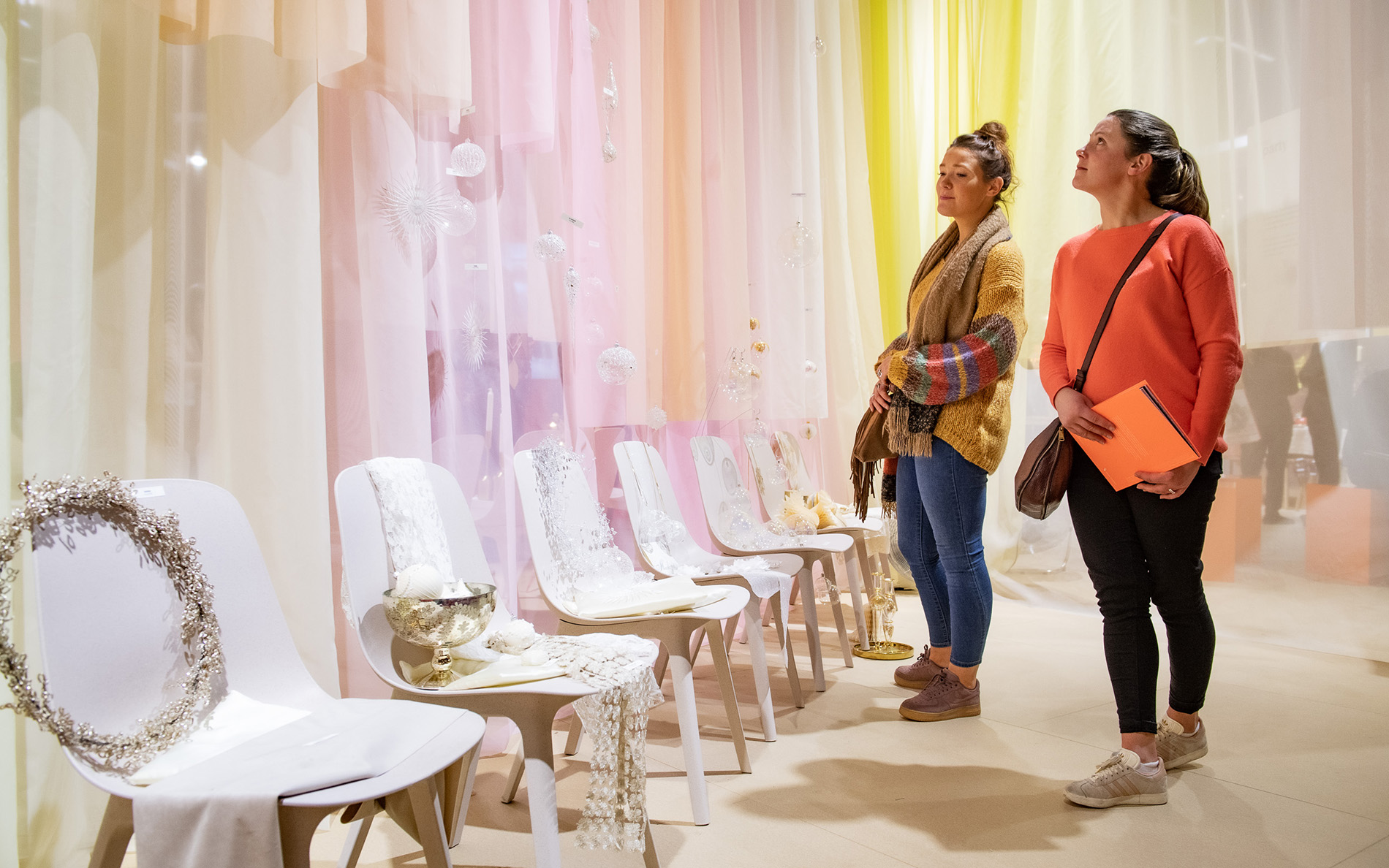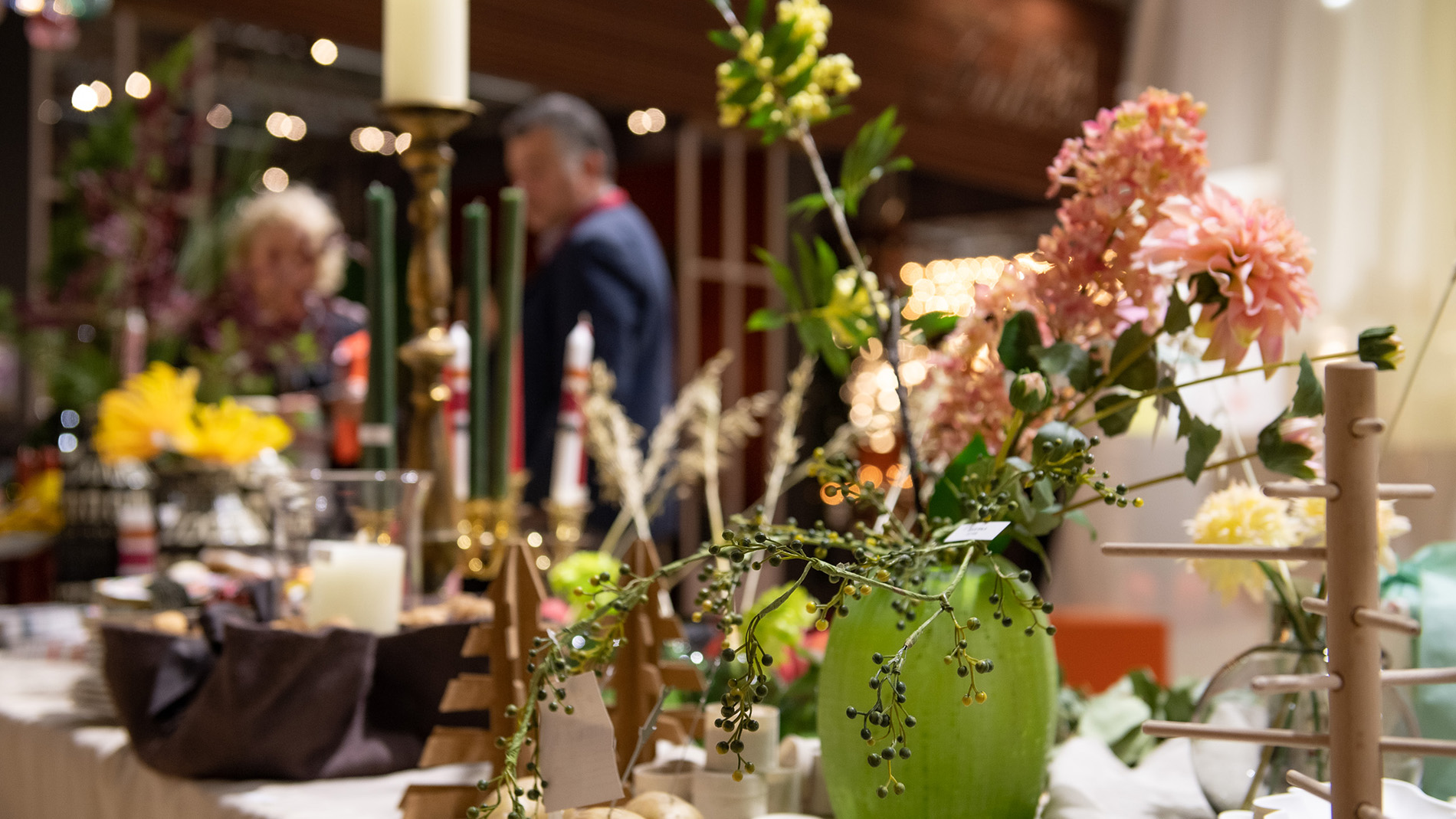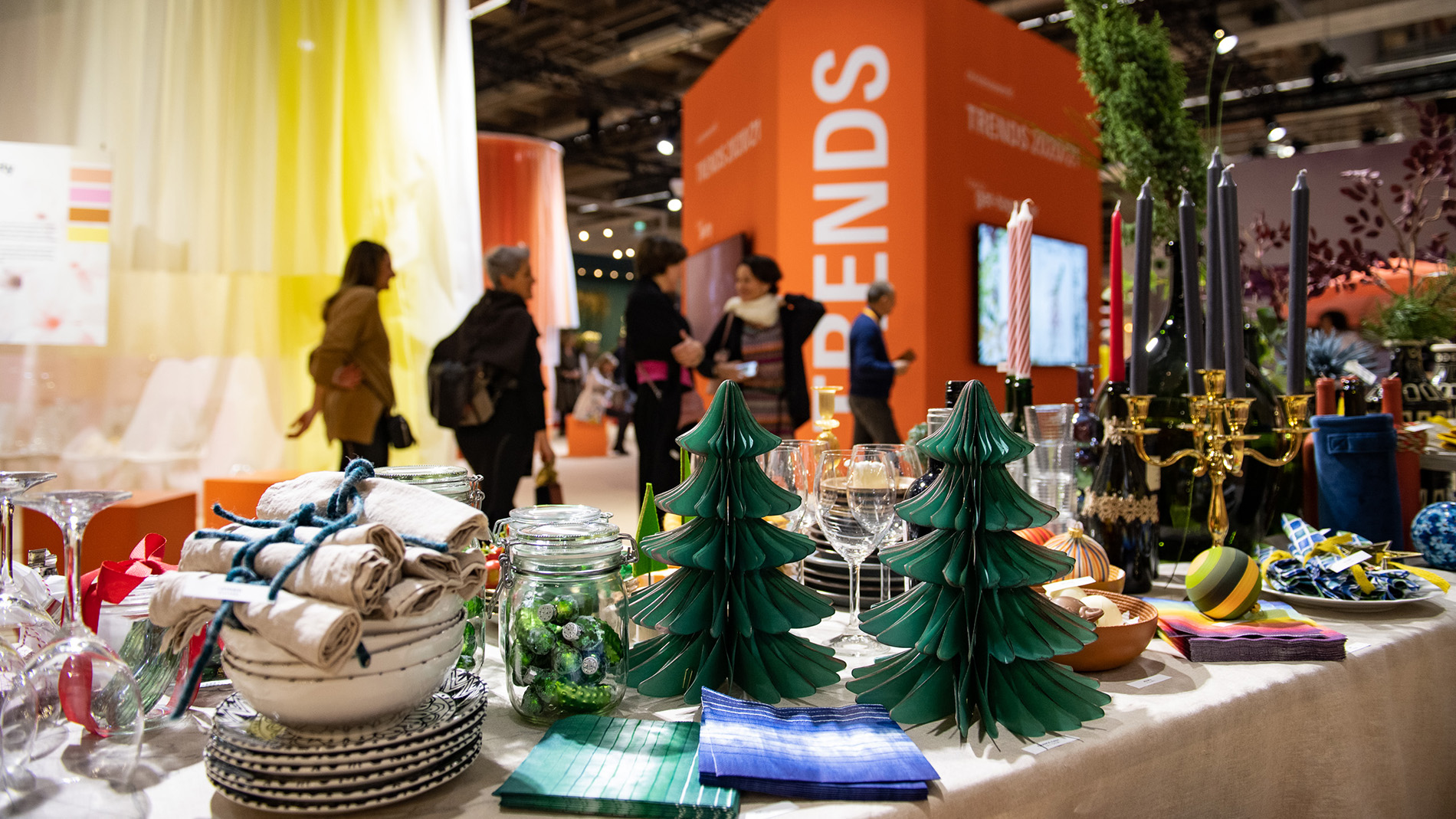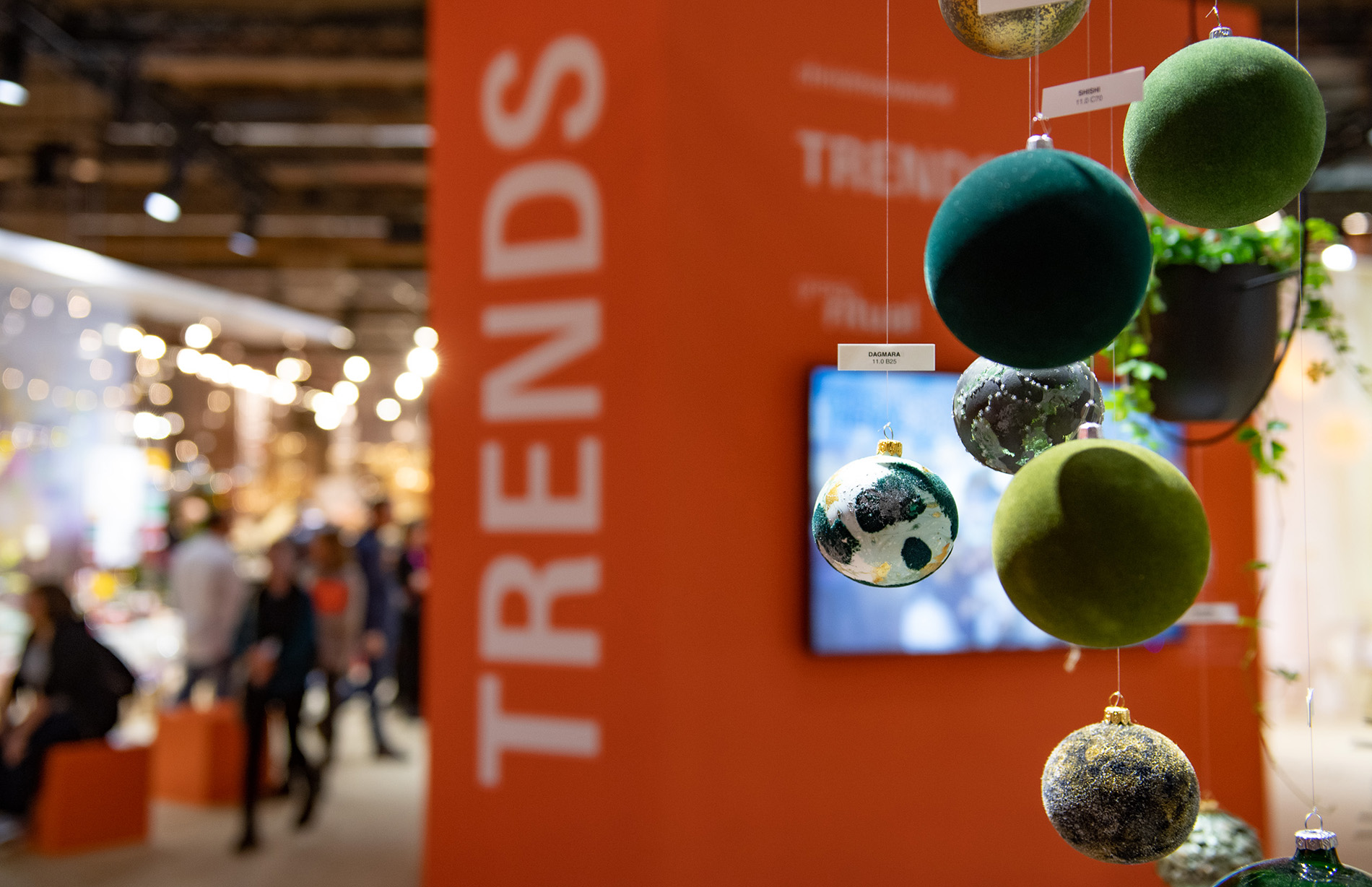 The trend scouts: bora.herke.palmisano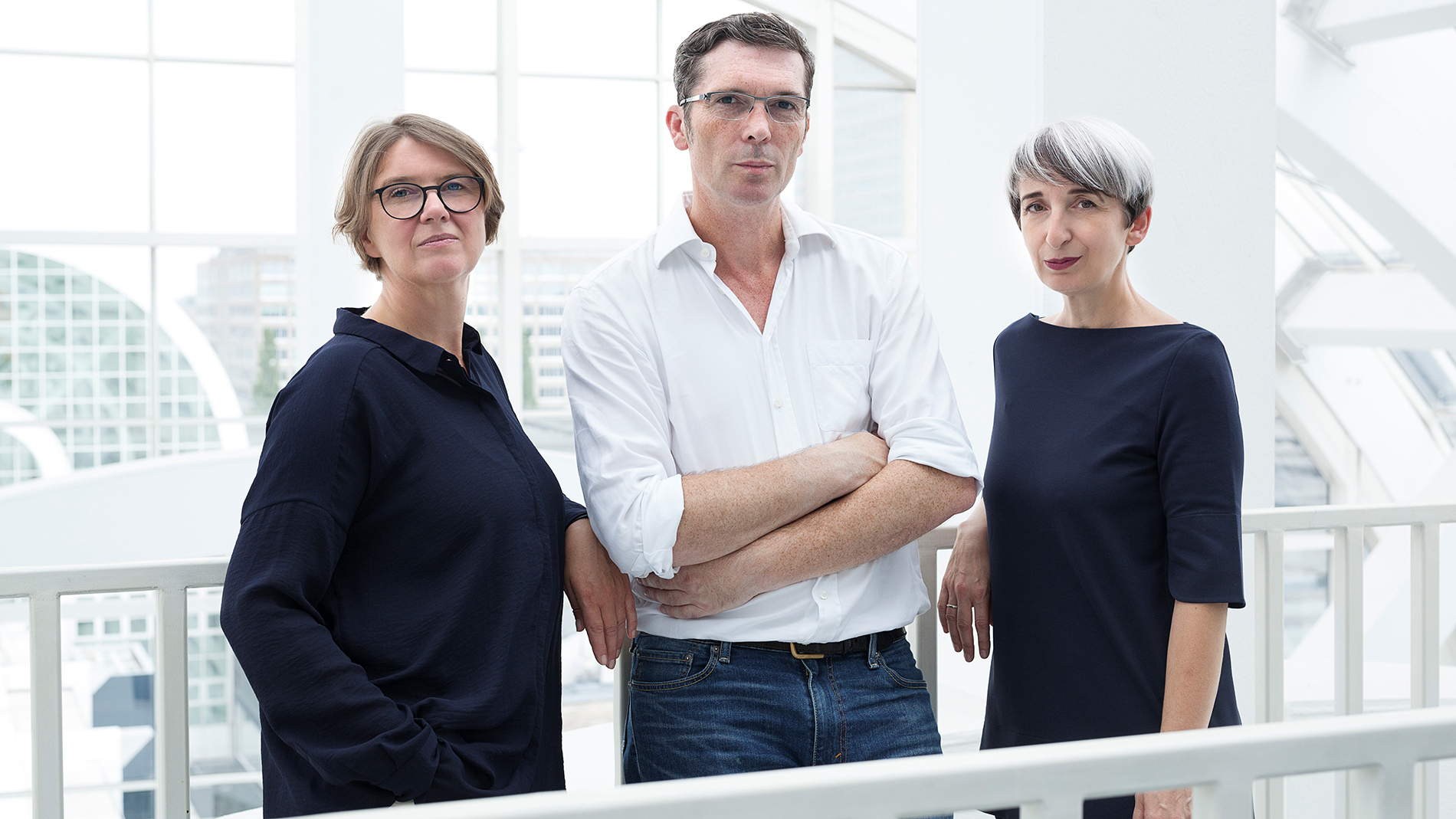 Designers Claudia Herke, Cem Bora and Annetta Palmisano from the design studio bora.herke.palmisano analyse international trends in fashion and art, interiors and lifestyle. In the Trend Show and in the Trend Brochure, they illustrate the stylistic currents of the coming season in an approachable and market-related way.