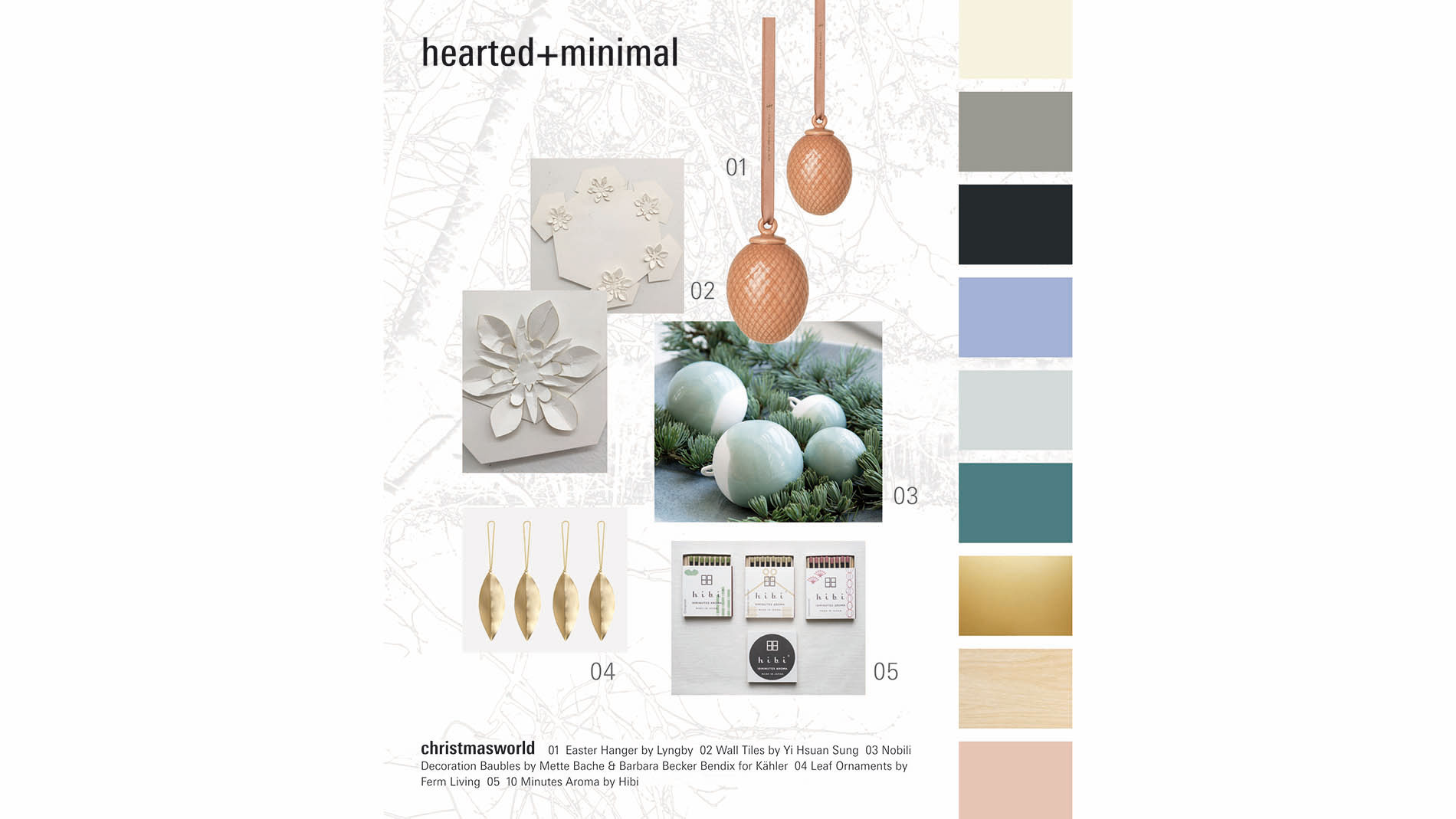 Those who love minimalism will find this style world particularly appealing. Because the clear lines, restrained colours and natural materials create a calm and pleasant living atmosphere. Cross-seasonal ornaments and motifs, timeless décors and durable materials convey permanence - and are therefore ideal for transferring from Christmas to Easter.
"hearted + minimal goes very well with Easter. The soft colours with gold as an accent, the minimalism with discreet but thoroughly decorative blossoms on porcelain pendants as shown in the trend collage allow the transfer from the Christmas tree to the Easter bouquet. The stylised pendants in the shape of a heart and a blossom are reminiscent of real jewellery and are also conceivable for the breakfast table on Easter Sunday. Combine them with candles in the colours shown. Delicate blossoms from floristry complete the picture," advises trend expert Claudia Herke.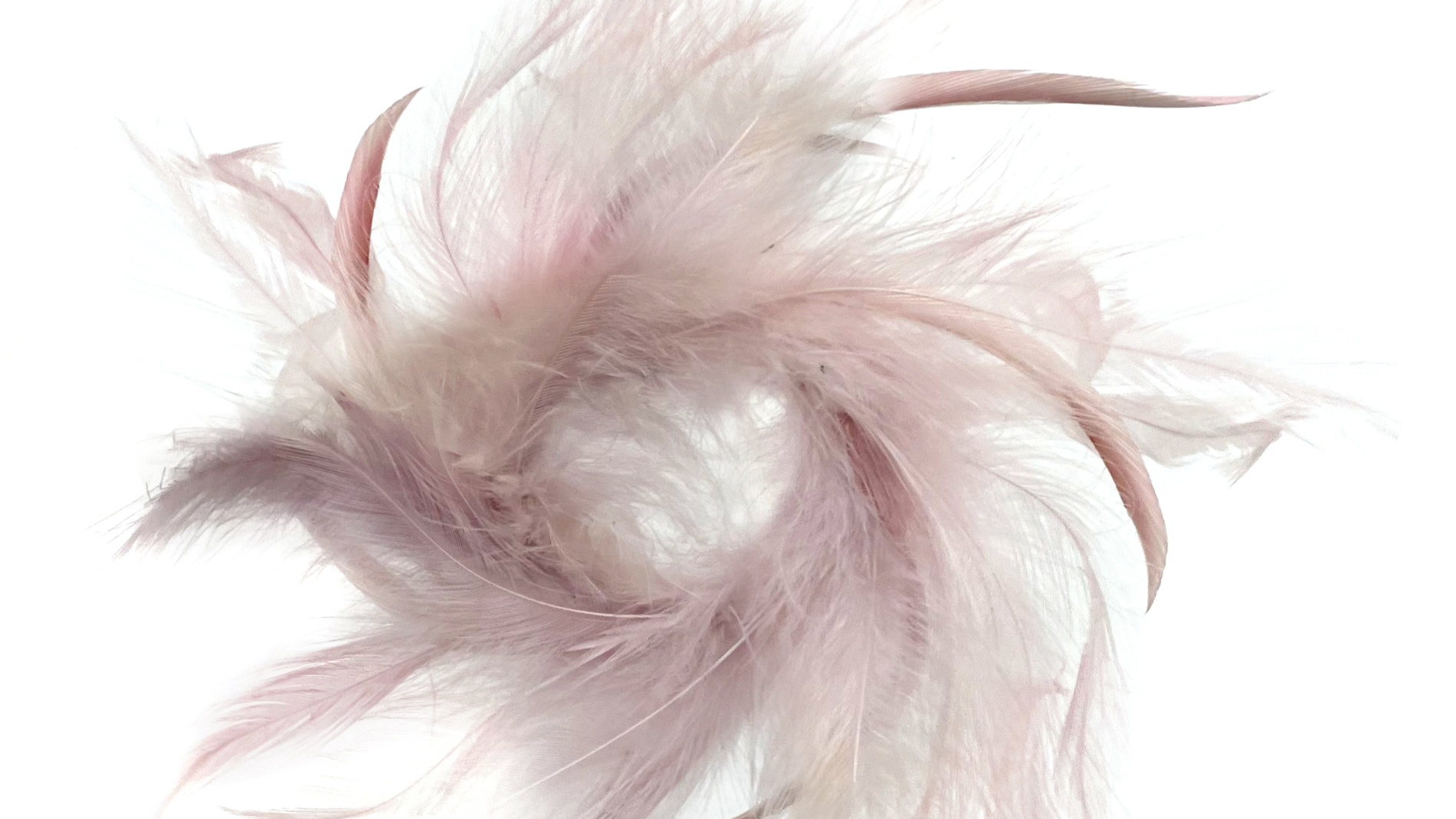 In hearted + minimal, subtle colours determine the palette. The neutral range is dominated by a light grey-white, a medium grey and deep black. In the cool range, a Nordic blue, frosty mint and wintry green. The warm colour row starts with gold, followed by soft maple and mild rosé.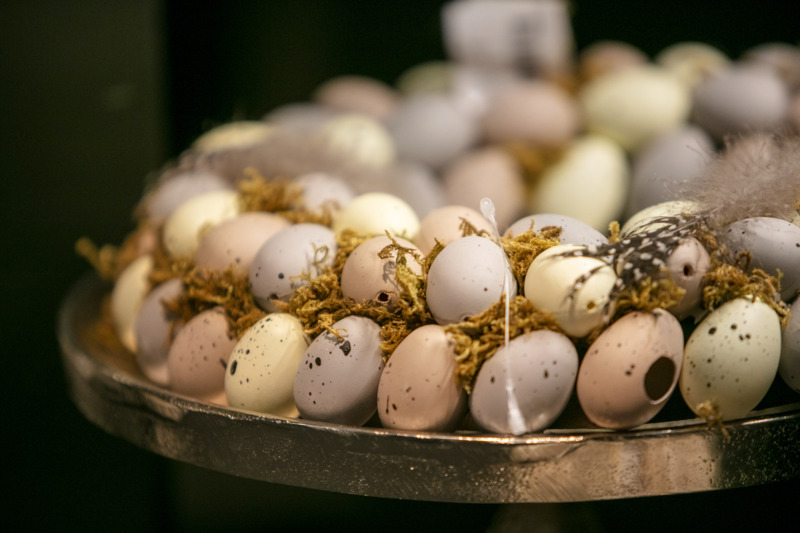 "The desire for more sustainability is omnipresent, is growing day by day and permeates all style worlds. At hearted + minimal, for example, rely on bio-based and biodegradable materials, paper and algae as well as durable natural materials such as wood and stone. Glass adds a filigree touch, as do floral motifs and accents in gold and brass. Shiny decorations and fragrant beeswax give candles a romantic touch," Herke adds.
Christmasworld - Seasonal Decoration at its best
International trade fair for seasonal and festive decoration
From February 2023, Christmasworld will be held at the Frankfurt exhibition centre at the same time as the leading international consumer goods fairs Ambiente and Creativeworld. Home of Consumer Goods. One time. One place. The consumer goods market in all its diversity will be visible at just one venue - opening up new perspectives, synergies and opportunities.
Ambiente: 3 to 7 February 2023
Christmasworld: 3 to 7 February 2023
Creativeworld: 4 to 7 February 2023
Information for journalists:
For further information, please visit: christmasworld.messefrankfurt.com and www.consumergoods-frankfurt.com
Press releases & images:
christmasworld.messefrankfurt.com/press
Links to websites:
Hashtag: #christmasworld23
Your contact:
Katrin Westermeyr
Tel.: +49 69 75 75-6893
katrin.westermeyr@messefrankfurt.com
Messe Frankfurt Exhibition GmbH
Ludwig-Erhard-Anlage 1
60327 Frankfurt am Main

www.messefrankfurt.com
Christmasworld: Seasonal Decoration at its best
Christmasworld focuses on the strongest-selling and most emotional time of the year and exploits the success factor of experience at the point of sale like no other consumer-goods trade fair. This makes it the world's most important ordering event for the international decorations and festive decorations sector. Every year in Frankfurt, it presents the latest products and trends for Christmas and all other festive occasions. In addition, it provides innovative concept ideas for the decoration of large and outdoor areas for wholesalers and retailers, shopping centres and city centres. Christmasworld offers the entire range of decorative and festive articles - from hand-blown Christmas tree baubles, ribbons and packaging to large-scale light displays for shopping centres and city centres.
Home of Consumer Goods - the new one-stop shop for the global ordering season
Under the motto "Home of Consumer Goods", Ambiente, Christmasworld and Creativeworld will be held simultaneously for the first time at one of the world's most modern trade-fair centres from 3/4 to 7 February 2023. In particular, the new design of the Working product area under the umbrella of Ambiente, the world's leading trade fair for the sector, will create future-oriented impulses. The newly created combination of three successful leading fairs at one venue at one time thus combines their strengths and offers an unprecedented, simultaneously available, future-oriented product range in terms of quality and quantity. Frankfurt is once again the centre of the global ordering season, strengthens synergy effects and efficiency for all participants and is thus the one, comprehensive inspiration, ordering and networking event for a globalised industry. This is where the hottest trends are presented and the global metatrends are experienced and made visible.
Nextrade – the digital marketplace
The digital ordering and data management system for suppliers and retailers in the consumer goods industry extends the trade fair and allows orders to be placed at any time of day or night, 365 days a year. www.nextrade.market
Conzoom Solutions – the platform for retailers
Conzoom Solutions is a knowledge platform that offers the consumer goods industry a wide range of studies, trend presentations, workshops and guidelines for the point of sale. It provides a complete overview of Messe Frankfurt's international portfolio in the consumer goods sector – bundling a wide range of information for retailers. www.conzoom.solutions
Background information on Messe Frankfurt
The Messe Frankfurt Group is the world's largest trade fair, congress and event organiser with its own exhibition grounds. The Group employs approximately 2,300* people at its headquarters in Frankfurt am Main and in 30 subsidiaries around the world. In 2021, the company had to contend with the challenges posed by the pandemic for the second consecutive year. Annual sales will be approximately €140* million after having been as high as €736 million in 2019 before the pandemic. Even in difficult times caused by the coronavirus pandemic, we are globally networked with our industry sectors. We have close ties with our industry sectors and serve our customers' business interests efficiently within the framework of our Fairs & Events, Locations and Services business fields. One of the Group's key USPs is its closely knit global sales network, which extends throughout the world. Our comprehensive range of services – both onsite and online – ensures that customers worldwide enjoy consistently high quality and flexibility when planning, organising and running their events. We are expanding our digital expertise with new business models. The wide range of services includes renting exhibition grounds, trade fair construction and marketing, personnel and food services. Headquartered in Frankfurt am Main, the company is owned by the City of Frankfurt (60 percent) and the State of Hesse (40 percent).
For more information, please visit our website at: www.messefrankfurt.com
* Preliminary figures for 2021